Venice > Local transportation > Waterbus stops > Da Mula (Murano)
Da Mula (Murano)
From: Venice Waterbus Stops
Murano Da Mula is a single-platform ACTV stop in the center of Murano, Venice's glassmaking island. (See our 11-page Murano travel guide.) It was operating but getting a facelift when we took this photo: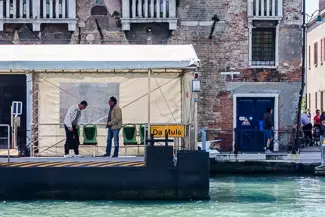 The Da Mula stop is served by:
ACTV Lines 3, 4.1, 4.2 public water buses
For more places to stay on the island, please see our detailed Murano hotel listings.
Note: This station does not have a ticket booth or vending machine, so here's what to do if you need to board a water bus without a valid ACTV ticket or Tourist Travel Card.