Venice > Local transportation > Waterbus stops > Faro (Murano)
Faro (Murano)
From: Venice Waterbus Stops
Murano Faro is an important ACTV station on the glassmaking island of Murano. (See our 11-page Murano travel guide.) It's visited by a large number of boat lines, including larger vessels that run to Burano and other locations in the northern reaches of the Venetian Lagoon.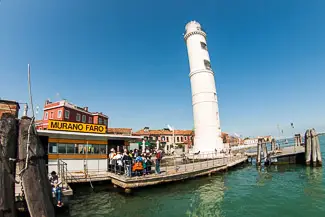 The main part of the station has a ticket booth (open during business hours) but no ticket machine. You can also buy tickets at a tabacchi shop behind the station.
Routes that call at Faro include:
ACTV Lines 3, 4.1, 4.2, 7, 12, 18, N public water buses
The station can be busy during peak season or on weekends, so we'd suggest purchasing a ticket well in advance of your trip if you're departing from Faro.
For hotels in the vicinity, see our detailed Murano hotel listings. (One very pleasant two-star hotel, Al Soffiador, is only a short walk inland from the Faro boat stop.)