Venice > Local transportation > Waterbus stops > Riva de Biasio
Riva de Biasio
From: Venice Waterbus Stops
Riva de Biasio is on the southern or Santa Croce side of the Grand Canal, between Ferrovia (the stop for Venice's Santa Lucia Railroad Station) and the Cannaregio Canal.
The stop is served by:
ACTV Lines 1, 5.1, 5.2, N public water buses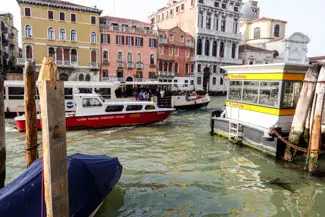 Several inns or hotels are close to the station, including Riva de Biasio (B&B), L'Imbarcadero (hostel), and the highly-recommended Hotel Ca Zusto Venezia (four stars), which is about five minutes away over level ground.
Note: Riva de Biaso does not have a ticket booth or vending machine, so here's what to do if you need to board a water bus without a valid ACTV ticket or Tourist Travel Card.