Venice > Local transportation > Waterbus stops > S. Elena
S. Elena
From: Venice Waterbus Stops
Sant'Elena, or S. Elena, is separated from the quiet residential neighborhood of the same name by a strip of public park.
It's at the eastern end of Venice's historic center, about 20 minutes on foot from the Piazza San Marco. Aross the water from the station, you can see several small islands and the Lido di Venezia beach resort.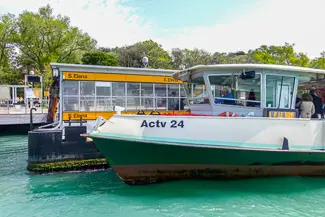 The Sant'Elena station has two pontili or pontoons and is served by:
ACTV Lines 1, 4.1, 4.2, 5.1, 5.2, 6, 7, N public water buses
Two hotels are in the neighborhood: the highly-regarded Hotel Indigo Venice Sant'Elena (four stars) is close by, and the Venezia Boat & Breakfast Caicco Freedom is in a marina within walking distance of the Sant'Elena station.
Note: Sant'Elena does not have a ticket booth or vending machine, but you can buy ACTV tickets and Tourist Travel Cards at a newsstand just inland from the boat station.