Venice > Local transportation > Waterbus stops > S. Marco Vallaresso
S. Marco Vallaresso
From: Venice Waterbus Stops
San Marco Vallaresso is the smaller and older of two waterbus stations near the Piazza San Marco (the other, S. Marco Giardinetti, is a few meters to the east in the satellite image above).
Vallaresso has two pontili, or floating platforms, for boarding and exiting water buses. It also has a ticket booth and an ACTV ticket vending machine.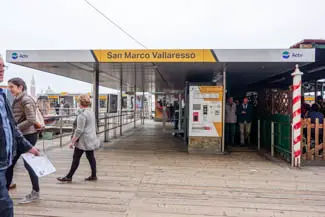 S. Marco Vallaresso is served by:
ACTV Lines 1, 2*, N public water buses
*eastbound (westbound 2 boats use Giardinetti)
Note: If you're arriving on a water bus, you'll hear the announcement "San Marco." (The "Vallaresso" won't be mentioned.)
To learn about hotels in the vicinity, please click here.