Venice > Local transportation > Waterbus stops > S. Marta
S. Marta
From: Venice Waterbus Stops
Santa Marta is near a port entrance at the southwest corner of Venice's southwest center, on a small canal that runs inland from the larger Giudecca Canal used by cruise ships and water buses.
This ACTV stop is convenient if you're exploring Venice from a river vessel or other small ship at the Santa Marta pier, which is just to the west of the San Basilio Cruise Terminal.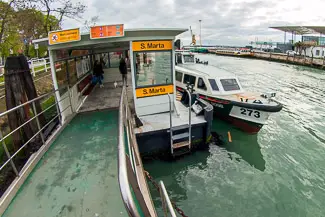 The Santa Marta station is served by:
ACTV Lines 4.1, 4.2, 5.1, 5.2, 6 public water buses
We aren't aware of any hotels in Santa Marta's immediate vicinity, but the Hotel Tiziano (three stars) isn't too far away.
Note: This station does not have a ticket booth or vending machine, so here's what to do if you need to board a water bus without a valid ACTV ticket or Tourist Travel Card.