Venice > Local transportation > Waterbus stops > Stazione Marittima
Stazione Marittima
From: Venice Waterbus Stops
Stazione Marittima is an Alilaguna waterbus stop in the Stazione Marittima cruise port, which is used by large ships (and, occasionally, by smaller vessels). It's located at the bottom of the U-shaped ship basin. From the boat landing, you can easily walk to your ship by following the signs and pavement markings.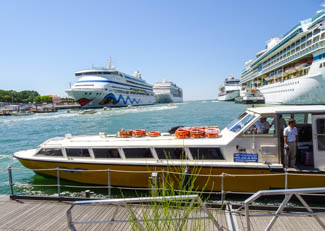 The Stazione Marittima landing is the Venice terminus of:
Alilaguna water buses from Venice Marco Polo Airport
Alilaguna's Linea Blu, a.k.a. the Blue Line, runs between Venice Marco Airport with stops at various locations, such as Murano, the Lido, San Zaccaria, San Marco, Zattere, and Giudecca Stucky (where the Hilton Molino Stucky Venice is located). This makes the airport boat a convenient way to reach the cruise port from many popular tourist areas of Venice.
ACTV vaporetti (public water buses) do not stop at Stazione Marittima.
To find hotels that are convenient to the Alilaguna Linea Blu, see our hotel listings for Piazza San Marco, St. Mark's Basin Waterfront, Zattere, Lido, and Murano.
Note: If you don't have an Alilaguna ticket and can't buy one on shore, you can pay on board the boat.