Venice > Local transportation > Waterbus stops > Tre Archi
Tre Archi
From: Venice Waterbus Stops
Tre Archi is toward the northern end of the Cannaregio Canal, near the Venetian Lagoon and a few minutes' walk from the historic Venetian Ghetto.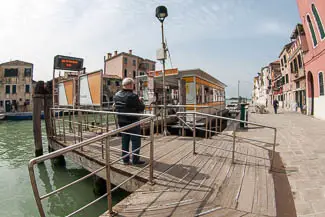 The single-platform waterbus station is served by:
ACTV 5.1, 5.1, 22 public water buses
Several hotels are in the neighborhood:
The stylish Carnival Palace Hotel (four stars) is immediately south of the station, overlooking the Cannaregio Canal.

Hotel Tre Archi (three stars) is directly behind the Tre Archi boat stop.

Venice my Friends (B&B, with three rooms) faces the water between the waterbus station and the Carnival Palace.
Note: Tre Archi does not have a ticket booth or vending machine, so here's what to do if you need to board a water bus without a valid ACTV ticket or Tourist Travel Card.