---
Buying Vaporetto Tickets
BELOW: A biglietteria or ticket point near the Piazza San Marco.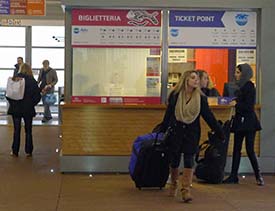 Venice's vaporetti or water buses are operated by ACTV, the local transit authority. To ride them, you'll need a single-fare ticket, a Tourist Travel Card, a VeniceConnected tourist pass, or--for extended stays--the VeniceConnected long-term stored-value card.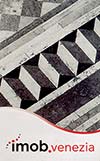 Most tourists buy ACTV single-fare tickets or Tourist Travel Cards (which offer better value than the standard ticket, if you plan your boat trips to maximize your savings during the 12-hour to 7-day validity of your travel card).
Here are two ways to buy tickets (and, in the first two cases, Tourist Travel Cards):

From an ACTV or Hellovenezia ticket office. You'll find a biglietteria or "ticket point" at most larger vaporetto stations, such as Piazzale Roma, Ferrovia (along the water by the railroad station), Rialto, San Marco Vallaresso, and Zaccaria (on the waterfront above the Piazza San Marco and the Doge's Palace). Business hours vary, but if the ticket point is closed, you can use a machine.

From a ticket-vending machine. Touch-screen machines are now available in many ACTV locations, either to replace manned booths or to provide backup at busy times or after hours. For illustrated step-by-step instructions on how to use the machines, see our ACTV Ticket Machines article. Also see our Directory of ACTV and Alilaguna Waterbus Stops for information about stops that have ticket booths and/or ticket machines.)

Tip: The old cardboard ACTV tickets have mostly been replaced by rechargeable tickets such as the biglietto ricaricabile shown here. If you pay for two or three tickets at a newsstand or ACTV ticket counter and you're handed only one biglietto, don't worry--several fares are stored on the ticket, and you can present it for recharging when you want to buy more fares.
For more information about riding Venice's water buses, please see:
We also recommend that you look at:
Venice Local Transportation Index