Venice > Food & drink > Pizzeria Trattoria La Perla
Pizzeria Trattoria La Perla
Restaurant Review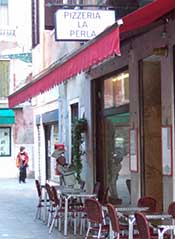 ABOVE: Pizzeria La Perla is on a side street in Cannaregio, across from a movie theatre. INSET BELOW: The Imbodens pose self-consciously with pre-pizza pommes frites.

In Venice, as elsewhere in Italy, pizza tends to be a bargain: A personal plate-size pizza is nearly always cheaper than a multicourse meal, it's filling, it's unlikely to be disappointing, and it usually arrives at your table fairly quickly--a fact that makes pizza especially attractive after a long day of sightseeing.

Venice has no shortage of pizza restaurants, but there's one that has become a family favorite with us: Pizzeria Trattoria La Perla in the sestiere of Cannaregio, just around the corner from the Campo dei SS. Apostoli near a movie theatre, a Co-op supermarket, and the Hotel Giorgione.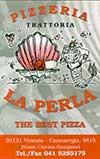 La Perla isn't as elegant as the nearby Trattoria Pizzeria San Alvise on the Fondamente Nuove, and the atmosphere is more spartan than that of another reliable pizzeria-restaurant that we've been visiting for years, the Taverna San Trovaso in Dorsoduro. Still, the decor is pleasant, the clientele includes more locals than tourists, the pizza is satisfying, service is efficient, and prices are reasonable by Venice standards. If you're sightseeing or shopping on the Strada Nova and you're hungry for pizza, head for the Campo dei SS. Apostoli and use the directions and map on the next page to reach the Pizzeria La Perla.
Tips:
From watching the locals, we've learned to share an order of pommes frites as an appetizer. (The combination may not be especially healthy, but at least it's less weird than having French fries or chips on the pizza--a menu option that we've seen in more than one Venetian pizzeria.)

La Perla has an extensive menu of pastas, meat dishes, and other items, so you needn't stay away if someone in your group doesn't care for pizza.

We've never failed to get a table, but if you're dining in summer or on a weekend evening, you might want to call ahead at 041 5285175.

La Perla is closed on Wednesdays.
To find your way to the Pizzeria Trattoria La Perla, see the map and step-by-step directions on page 2 of this article.
Next page: Map with directions
---
---