Venice > Transportation > Ryanair
Ryanair Venice Airports
Q. Which airport does Ryanair use in Venice?
A. It could be either Venice Marco Polo or Treviso airport, so check before you fly!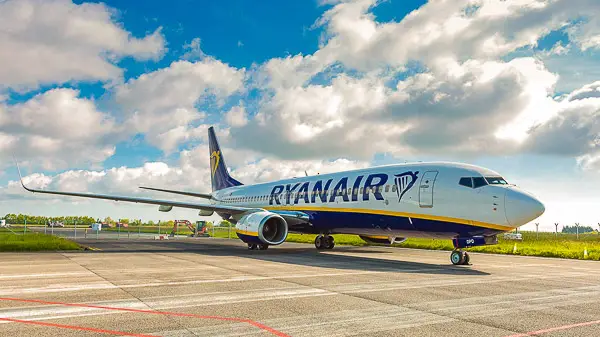 By Durant Imboden
Publication date: June 22, 2022
Ryanair, the Irish budget airline, now uses two airports in Venice, Italy: Treviso A. Canova International Airport (TSF), a small airport about 34 km or 21 miles from Venice, and Venice Marco Polo International Airport, which is close to the city center on the Venetian Lagoon.
Most Ryanair flights to Venice arrive and depart at Treviso. However, the airline does run nonstop service between London Stansted Airport and Venice Marco Polo, plus flights between VCE and a handful of European locations such as Naples, Palermo, and Barcelona.
When booking flights to or from Venice on Ryanair, check carefully to make sure that you know where your flight will arrive or depart.
(This is especially true when you're flying from Venice to another city, because going to the wrong airport will result in a missed flight.)
Getting to (or from) the airport
Fortunately, transportation between Venice and either Treviso or Marco Polo Airport is frequent and relatively inexpensive.
---
Treviso Airport transportation: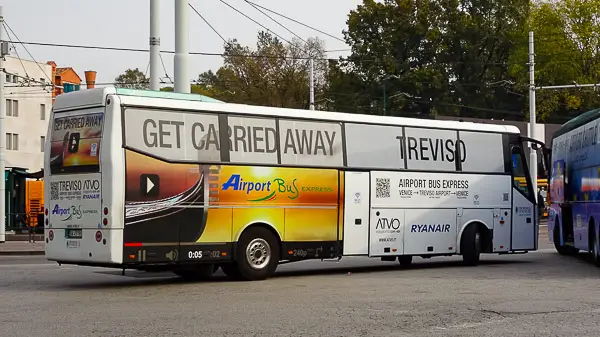 ABOVE: An ATVO bus from Treviso Airport is parked in Venice's Piazzale Roma.
The easiest and most affordable way to get from TSF to Venice (or vice versa) is by airport coach. The trip takes 40 to 70 minutes, and some buses make an intermediate stop in Mestre on the Venetian mainland.
For more information, see:
---
Venice Marco Polo Airport transportation: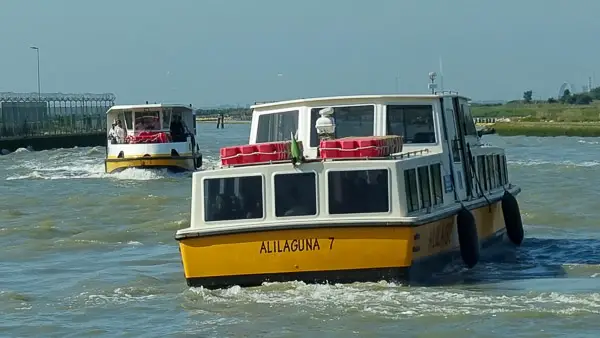 ABOVE: Arriving and departing Alilaguna boats pass each other at Venice Marco Polo Airport.
VCE, a.k.a. Venice Marco Polo International Airport, is only a few kilometers from the city center. Transportation options include:
If you're on a budget, we suggest staying within walking distance of Piazzale Roma, the bus and car gateway to Venice's historic center. See 10 Hotels Near Airport Buses for specific recommendations. Otherwise, any hotel near an Alilaguna airport boat landing will be convenient.
If you're leaving for Marco Polo Airport at the crack of dawn, our advice on Hotels for Early-Morning Departures from VCE may be helpful.
Top photo: Ryanair.