Venice > Mestre-Marghera > Hotels > Cruise port
Mestre hotels for cruise passengers
From: Venice Mestre & Marghera Hotels
Page 7
Continued from page 6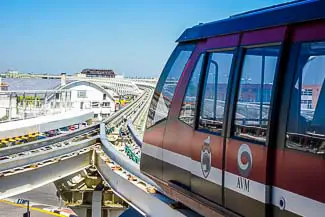 ABOVE: A People Mover train runs from the Piazzale Roma (terminus of Mestre's T1 tram) to the Marittima cruise basin.
Mestre is a convenient location for staying before or after a cruise, especially if you're traveling with heavy or bulky luggage.
The reason is simple: Roads connect Mestre with the Venice cruise terminals at Marittima, San Basilio, and Santa Marta. This means you can easily get between your hotel and the ship (or vice versa) by land taxi.
Mestre is also convenient if you're arriving or departing at the Marittima cruise basin (used by large cruise ships) and don't want to spend 30 or 40 euros on a taxi. Just take the T1 tram (or a public bus, if you have minimal luggage) to Piazzale Roma, the gateway for motorized traffic in Venice's historic center.
From the tram or bus stop in Piazzale Roma, walk across the square to the People Mover automated train, which takes only a minute or so to reach Marittima. The total fare from Mestre to the cruise port is only a few euros.
Where to stay in Mestre:
If you plan to hire taxis, it doesn't matter where you stay in Mestre. You can book any of the hotels that we've listed in this article, or--if you want a large, modern hotel--you might want to try:
---
NH Laguna Palace ****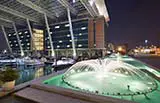 This stylish outpost of Spain's upscale NH group is part of a Mestre redevelopment project that includes office buildings, canals, and marinas. It has a private boat landing and pay parking, along with a restaurant, bar, and snack bar. Wi-Fi is free.
If you want to commute from the NH Laguna Palace to Venice for sightseeing, you can walk a few minutes to a public bus stop. To reach the cruise port with your luggage on embarkation day, you can take a water taxi or--more conveniently and affordably--a land taxi.
---
For hotels that are convenient to the Piazzale Roma (where you can catch the People Mover to Marittima's cruise terminals), see:
---
Back to: Venice Mestre & Marghera Hotels - Introduction
---
---
---