Venice > Mestre-Marghera > Hotels > Marghera
Marghera hotels near the train station
From: Venice Mestre & Marghera Hotels
Page 3
Continued from page 2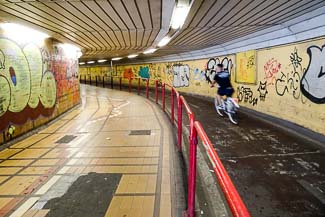 ABOVE: A pedestrian and bicycle tunnel runs under the railroad tracks that divide Mestre from the residential district of Marghera. (The tunnel also connects the train station's platforms.)
The "garden suburb" of Marghera lies directly next to Mestre, on the south side of the Venezia-Mestre railroad station and the train tracks. (It should not be confused with the Marghera Industrial Zone.)
Marghera is quiet, pleasant, and a good choice if you prefer hotels in residential areas. On this page, we've featured Marghera hotels that are within reasonable walking distance of the railroad station. (Marghera also has public buses to Venice; you can get timetables and buy tickets from your hotel's reception desk.)
Tips:
When you've clicked through to a hotel page, click the "Check location" mini-map below the search box to see the hotel's exact location.
---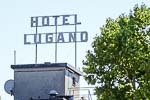 Hotel Lugano ****
This modern 64-room hotel is close to the Venezia Mestre train station. (It's also on a bus line.) Amenities include a restaurant and bar, on-site pay parking, and free Wi-Fi.
---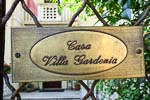 Casa Villa Gardenia
Intimacy is the watchword at this Art Nouveau villa on the Via Rizzardi, not far from the stazione. The villa has seven rooms (all with complimentary Wi-Fi), plus free parking on the premises.
---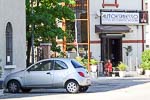 Hotel Autoespresso ***
The Autoespresso's setting isn't beautiful (it's on a busy road), but the hotel enjoys high ratings and offers secure free parking to guests who reserve in advance via the booking form. Buses run frequently to Venice, and a restaurant is close by.
---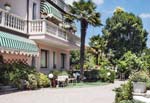 Hotel Villa Serena ***
With 22 rooms, a garden, and secure free parking for cars and bicycles (reserve ahead with the booking form), the Villa Serena is understandably popular with guests. You can walk to the railroad station if you're in the mood for exercise, or you can catch a bus to Venice near the hotel. Free Wi-Fi is available in the lobby and other public areas.
Next page: Hotels on the T1 tram line to Venice
---
---
---