Venice > Mestre-Marghera > Hotels > Airport
Hotels near Venice Marco Polo Airport
From: Venice Mestre & Marghera Hotels
Page 6
Continued from page 5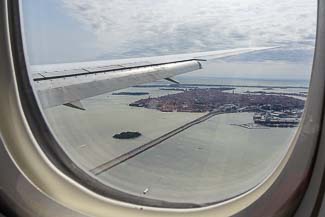 ABOVE: A Delta 767 passes Venice's historic center during its final approach to Marco Polo Airport (VCE). In this photo, you can see the causeway and railroad bridge that connect Venice with Mestre on the Italian mainland.
Thanks to Alilaguna airport boats between VCE and Venice's historic center, Venice airport buses to the Piazzale Roma, and Mestre Fly Buses to the Mestre railroad station, there isn't much need to stay in the nondescript suburban area near Marco Polo Airport. (See 7 hotels closest to airport buses in Venice for recommendations of hotels in central Venice that are convenient to both the airport and sightseeing.)
Still, if you're returning a rental car at the airport or just want to be a shuttle ride away from the terminal for an early flight, any of the hotels listed on this page should meet your needs.
---
Annia Park Hotel Venice Airport ****
The Annia Park is housed in a cluster of restored historic buildings on landscaped grounds. Its 27 rooms range from doubles to full-fledged suites. Wi-Fi is free, and the hotel offers free parking plus a free airport shuttle from 4:30 a.m. until the last flight of the day.
---
Courtyard by Marriott Venice Airport ****
This outpost of an American hotel group has all the mod cons, including rooms with king-size or twin beds. A restaurant is on the premises. The hotel has free Wi-Fi and free parking. Airport-shuttle service is available for a modest fee.
---
Best Western Titian Inn ***
The Titian Inn has free Wi-Fi, free parking, and a free airport shuttle. Its 55 rooms range from singles to four-person family rooms. Breakfast is served from 4:30 a.m. for the convenience of travelers with early-morning flights.
---
Hotel Gronda Lagunare **
The two-star Gronda Lagunare has seven rooms, all with private bath, with free Wi-Fi and free parking. It's on the No. 5 public bus route between Marco Polo Airport and Venice's Piazzale Roma. (From a stop near the hotel, the airport is just a couple of minutes away. You can also walk to the airport, although the route isn't especially pedestrian-friendly.)
---
Agriturismo Il Melograno
Are you driving and looking for something different? This agriturismo consists of one- and two-bedroom apartments on a working organic farm about 3 km or 2 miles from Venice Marco Polo Airport. It has free parking and free Wi-Fi, plus a small food shop on the premises.
For more hotels near the airport, click here to see a map of Tessera (the Mestre suburb where Venice Marco Polo Airport is located).
Next page: Mestre hotels for cruise passengers
---
---
---