---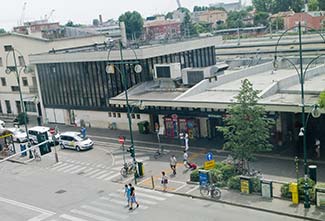 This view of the station's main entrance was taken from room 361 in the Best Western Hotel Bologna, which is directly across the street. 
---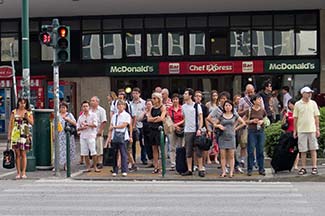 Just beyond the station entrance is a buffet that combines a McDonald's with a Chef Express. (The latter serves sandwiches, pastries, coffee, beer, wine, soft drinks, and other items. As in many Italian bars, you browse the menus and display case, pay the cashier for the items you want, and then take your cash-register receipt to the servers behind the counter.)
---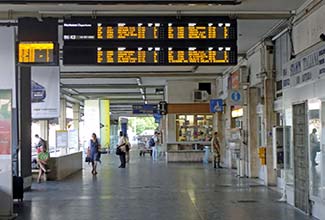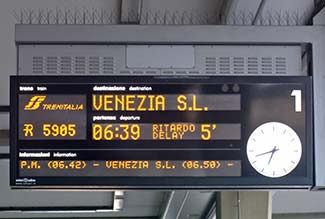 An electronic signboard and electronic signs on the station platforms show departure times, train numbers, delays, and other information.
---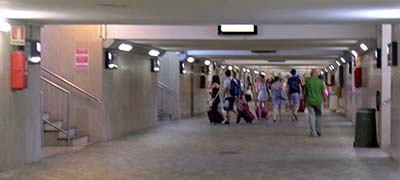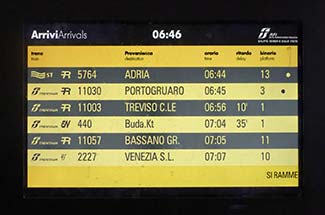 Downstairs, in the pedestrian tunnel that links the station platforms, arrival displays show when and where trains are arriving.
(Note: If you wish, you can exit on the far side of the station for the suburb and industrial zone of Marghera.)
---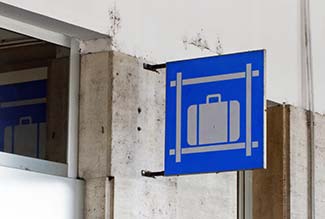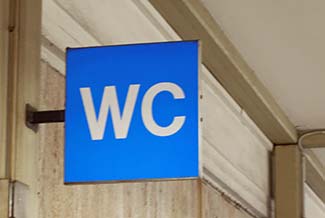 If you're in Mestre for the day, you can store your luggage in the baggage room. Toilets are also on Platform 1.
---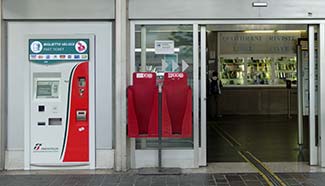 Trenitalia "Biglietto Veloce" or "Fast Ticket" machines are located outside the station and in the main ticketing hall. You can use these multilingual machines to buy tickets for long-haul or regional trains, or to check departure times to any city in the Italian rail network.
The machines accept banknotes, coins, and credit cards (including old-fashioned U.S. credit cards that lack microchips).  For tips on using these machines, see our "How to Use Trenitalia Ticket Machines" article at Rome for Visitors.
---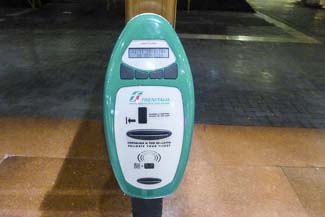 Before boarding your train, validate your ticket at one of the machines that are scattered around the station. (You can be fined if you travel without a properly validated ticket.)
---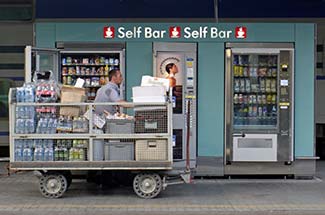 Not all trains have refreshment carts, so you may want to take advantage of the "Self Bar" vending kiosks on the station platforms. (For take-out sandwiches or pastries, go to the Chef Express in the station buffet.)