Rome's Leonardo da Vinci International Airport is usually called "Fiumicino Airport," with the airport code "FCO," after the name of the suburb where the airport is located.
FCO is the larger of Rome's two major airports and is served by about 150 international and domestic airlines. (The other airport, Ciampino, is used by general aviation, charters, and a few low-cost carriers such as Ryanair, Easyjet, and W!zzair.)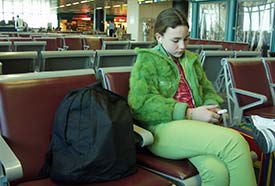 ABOVE: Waiting for a plane at Leonardo da Vinci Airport, a.k.a. Fiumicino Airport.

Fiumicino has four main terminals:
Terminal 1 (formerly Terminal A) is used by Alitalia, Air France, and KLM flights within the Schengen Area, which includes more than two dozen Western and Central European countries that share open borders.
Terminal 2 (formerly Terminal AA) handles EasyJet departures only.
Terminal 3 (formerly terminals B and C) is the main terminal for airlines that aren't using Terminal 1, 2, or 5, as well as arrivals from outside the Schengen Area.
Terminal 5 is a check-in and security facility for departures only by U.S. airlines and El Al.
(No, we haven't forgotten Terminal 4--it was still on the drawing board when we updated this article in 2015.)
Getting around the airport:
Terminals 1, 2, and 3 are connected to each other by walkways, so it's easy to reach the check-in areas from the airport's railroad station and bus drop-off points. Just follow the signs and maps.
Terminal 5 is less convenient: It's isolated from the other terminals, and if you're arriving at the airport by public transportation, you'll need to catch a shuttle bus from Terminal 3. After you've checked in, an airside shuttle will take you to the airport's West Satellite Terminal for boarding.
Airport hotels:
The most convenient airport at Fiumicino is the Hilton Rome Airport, which is connected to the terminals by an elevated corridor with a moving sidewalk. It isn't cheap, but it's extremely comfortable, and its location alone makes it worth the splurge if you have an early-morning flight.
Updated April, 2015