Rome Taxis
How to use taxicabs (and how to avoid excessive cab fares) in Rome, Italy.
By Durant Imboden
Taxicabs are plentiful in Rome, and rates are fairly reasonable: According to the World Taximeter International Taxi Fare Calculator for Rome, a typical weekday fare from Termini Station to the Spanish Steps is just over 7 euros. (The exact fare will depend on traffic, whether you're traveling on a Sunday or holiday, how much luggage you're carrying, etc.)
Taxis are easiest to find at taxi stands, railroad stations, and airports. You can also phone for a taxi.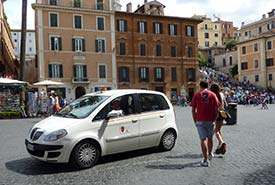 ABOVE: A minitaxi near the Spanish Steps. INSET BELOW: Cabs at Termini Station, and an illuminated sign on a Rome taxi.

A good source of basic information is Pauline Kenny's Rome Taxis page at Slow Travel Italy, which covers the fundamentals and describes the author's personal experiences when using cabs.
When you need a cab, visit the Web site of Cooperativa Radotaxi 3570, where you can reserve a cab online or with a phone call. (The cooperative also has a new fleet of wheelchair-accessible taxis.)
Important:
Ignore the touts at Termini Station or the airport and use only licensed, metered cabs. Licensed taxis are painted white, have "taxi" lights on the roof, and have Comune di Roma decals (with the taxi's license number) on the doors.

Some taxis are small, while others are midsized sedans, station wagons, or minivans. If you're traveling with bulky luggage and you phone for a taxi, be sure to explain that you need a cab with room for your bags.

If you feel that you've been cheated and you've booked your cab through Cooperative Radiotaxi 3570, you can register a complaint online.
Airport taxi service:
In October, 2006, the Comune di Roma introduced flat rates for rides in licensed taxis between Fiumicino or Ciampino Airport and the city center (any location within the Aurelian Walls). The fares, which include luggage, are:
Fiumicino (Leonardo da Vinci Airport) - Rome: €40

Ciampino Airport - Rome: €30
---
---

Inset photo of taxi light copyright © Frank Parker.

"Best of the Web"
- Forbes and The Washington Post


About our site
---

Guaranteed lowest rates from
Europe's No. 1 booking service:
---

Staying a few days or longer?
Live like a local and save:

Rome vacation apartments
---

Also see our Venice trip-planning sites:
Venice for Visitors
"The premier visitors' site for Venice, Italy."
- PC Magazine
QuickVenice
All the basics for shorter trips.
---