Rome Metrebus Tickets and Fares
Page 2
Continued from page 1
How to use Metrebus ticket machines in Rome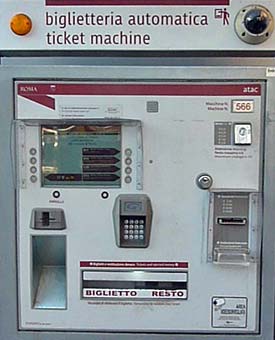 Step 1: Look for ticket-vending machines at Metro stations and larger tram stops. When you're ready to buy tickets, have a supply of coins in your hand.
Step 2: Select your preferred language and the type of ticket that you need by tapping the touch-sensitive display.
Step 3: If you want more than one ticket, use the round metal buttons on the right side of the screen to adjust the number.
Step 4: When you're ready to make your purchase, insert coins or a banknote in the appropriate slot on the right side of the machine.
Step 5: Retrieve your tickets and change from the"Biglietto - Resto" slot. (The change function doesn't always work, and the machines give no more than €4 in change in any case, so it's best to pay the exact amount in coins.)
Here's a short video of a ticket purchase from a Metrebus machine:
Back to: Rome Metrebus Tickets and Fares - Page 1
---
---
---
"Best of the Web"
- Forbes and The Washington Post
---

Guaranteed lowest rates from
Europe's No. 1 booking service:

All places to stay in Rome

Romantic & honeymoon hotels

Luxury hotels

Budget hotels

Airport hotels (Fiumicino)

Cruise hotels (Civitavecchia)
---

Staying a few days or longer?
Live like a local and save:

Rome vacation apartments
---

Also see our Venice trip-planning sites:
Venice for Visitors
"The premier visitors' site for Venice, Italy."
- PC Magazine
QuickVenice
All the basics for shorter trips.
---
---

From Durant and Cheryl Imboden:

About our site