Rome Metrebus Tickets and Fares
How to buy (and use) tickets for Rome's Metro, buses, streetcars, and local commuter trains.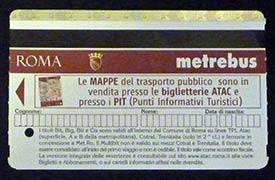 ABOVE: The front side of a "Metrebus" ticket, which can be used on Rome's Metro, public buses, streetcars, and some suburban or regional commuter trains.
By Durant Imboden
Rome Metropolitana trains, buses, and trams use "Metrebus" tickets, which are valid on all three modes of transportation. The tickets can also be used for commuter-train rides within the Comune di Roma (including the beach at Lido di Ostia but not Fiumicino Airport).
Unless you're riding the Metro (where you can buy a ticket in the station), you should purchase a supply of Metrebus tickets ahead of time, since you'll need to have a ticket before you board a public bus or streetcar.
The tickets come in several basic versions:
BIT is the standard ticket for one Metro ride (with train changes, if necessary), one commuter-train ride, or 100 minutes on public buses. It costs €1,50.

BIG is a 1-day ticket. It's valid for 24 hours of unlimited travel on the Metrebus network. The price is €6.

BTI is a 3-day ticket. It works just like the BIG ticket, but for 72 hours. The price is €16,50.

CIS is a a 7-day ticket. It's valid for one week from the time of stamping. The price is €24.
The different types of ticket look identical on the front, but the data stored in the magnetic stripe and printed on the back side of the ticket is different. Here's what the back of a single-journey BIT ticket looks like after validation: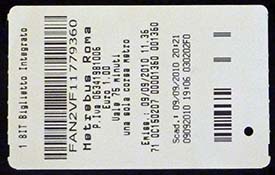 Another option is the Roma Pass, a transportation and museum card for tourists. It works a little differently than the Metrebus tickets, but you can use it on the Metro, ATAC buses, trams, and specified commuter-train lines.
Validating your ticket
You must validate your Metrebus ticket prior to travel. Riding without a stamped ticket can result in a fine of €50 on the spot, plus the cost of the ticket. Here's how to validate the ticket:
When riding a bus or tram, stamp your unused ticket in one of the machines near the doors immediately after boarding. (Hold the striped side toward you and insert the ticket in the direction of the arrow.)

When riding the Metro, insert your ticket in the slot on the front of the turnstile, and retrieve it from the top of the machine before going through the gates.

When riding a commuter train, stamp your ticket in the yellow machine on the platform before you get on the train.
Note:
When traveling with a 1-, 3-, or 7-day tourist ticket on a bus, tram, or commuter train, stamp it only once (the first time you use it) but keep it with you in case an inspector demands to see it.
When traveling with a Roma Pass or other RFID (radio frequency identification) card, hold the card next to the yellow sensor on the bus, tram, or Metr turnstile until the green light flashes.
Where to buy tickets
Metrebus tickets are available from:
Ticket counters in Metro stations,
Ticket machines in Metro stations and at larger tram stops,
Any newsstand, kiosk, or bar that is licensed to sell cigarettes. (When in doubt, look for a "Tabacchi" sign.)
Other resources
The Roma Pass may be worth investigating, depending on your Rome vacation plans. It comes in two versions: the original three-day Roma Pass, and a cheaper Roma Pass 48 hours. Both allow unlimited travel on Metro trains, city buses, trams, and a handful of commuter trains. Each pass also allows free or reduced entry to selected museums and archaeological sites, with a priority "skip the line" turnstile at the Colosseum.
ATAC, Rome's municipal transit network, has public-transport maps, timetables, and other information in English and Italian.
Updated June, 2014
Next page: How to use Metrebus ticket machines
---
---
---

"Best of the Web"
- Forbes and The Washington Post


About our site
---
Suggestions from our booking partner:

---

Need a car in Europe?
If you live outside the EU, a tax-free tourist car lease can be cheaper than renting for visits of 21+ days. Minimum driver age is 18, there' s no upper age limit, and rates include insurance.

Renault Eurodrive car leases
---

Pre-book airport transportation, cruise transfers, and local tours:

Rome transfers & ground transport

Rome tours and day trips
---

Also see our Venice trip-planning sites:
Venice for Visitors
"The premier visitors' site for Venice, Italy."
- PC Magazine
QuickVenice
All the basics for shorter trips.
---