Hiking in Switzerland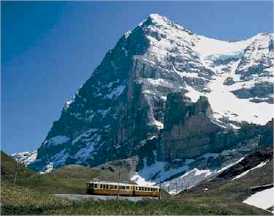 ABOVE: The Wengernalp cogwheel railway passes near the main hiking route from Grindelwald to Wengen in the Jungfrau district of the Bernese Oberland.
Switzerland probably has more kilometers of marked hiking paths per capita than any other nation. Its 50,000 km (30,000 miles) of trails fall under three headings:
Wanderwege are found in valleys, by lakes, and between towns. They're identified by signs with yellow markings. (In some cases, yellow metal markers or paint blazes are used to help you stay on the route.) If you're in good health and wearing rubber-soled shoes, the average Wanderweg shouldn't pose any challenge.
Bergwege are higher-altitude "mountain paths" with white and red markings. Most aren't difficult, but you'll need to take it easy if you're in poor shape or have heart problems.
Alpine Routen or "alpine routes" are marked with white-and-blue signs. They tend to be rugged (often with dropoffs), and you may encounter steep sections with cables or other handholds. Unless you're an experienced mountain hiker, you shouldn't try these paths without a guide.
Signs generally show estimated walking times to route junctions, villages, or huts. It's best to regard these times as minimums, since they don't allow for resting, picnicking, or sore feet.
When to come
Well-marked paths won't do you much good if you're lost in a blizzard, so you'll need to plan your trip for the right time of year.
In general, the alpine hiking seasons runs from mid-June through mid-September. Come earlier, and you may find snow on shady paths at higher elevations; arrive later, and your hiking plans might be spoiled by an early snowstorm.
At lower elevations and on the south side of the Alps, the hiking season begins in May and continues through October. Hiking on paved paths around major Swiss cities or towns is enjoyable at any time of year unless the weather is wet and miserable (which it can be--why do you think Switzerland is so green?).
During the winter, many ski resorts keep local paths clear for walkers. The steeper paths can be icy at times--my husband once broke the wheel off our baby's stroller when he made an involuntary glissade down a St. Moritz path--but on sunny days, it's possible to to hike the plowed hiking trails in shirtsleeves or a light sweater.
Photo: Aztech Corp.