L'Austral is a ship of French registry, with French officers, guest-relations staff, chefs, and other senior personnel. Sailors and service employees come from a variety of countries: on our cruise, we were aware of crew from France, Indonesia, and Mauritius.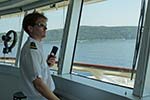 Most employees speak English. (In some cases, their English may be better than their French.) Announcements and daily programs are in both French and English, and English is the default language for international passengers who aren't fluent in French.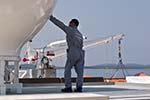 During our week aboard L'Austral, we were happy with the quality of service, and we appreciated the subtle differences that come with being on a small ship. (For example, when Durant had lunch by himself one day, the waiter asked "Will Madame be coming?")
Tipping
Compagnie du Ponant normally suggests a tip of €10 per day per guest, which is given to Reception and pooled for distribution to the service staff. However, fares for North and South American passengers now include gratuities, and we hope this new policy will lead to "all-inclusive" pricing for guests of all nationalities.