Like all cruise lines, Compagnie du Ponant offers shore excursions in most ports of call. But unlike many cruise lines, the company doesn't seem to view shore excursions as a major source of revenue.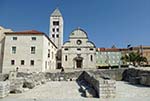 On our Adriatic cruise, tours were available in most ports, but there was very little "upsell." What's more, some of the tours were relatively inexpensive: e.g., € 25 for a walking tour of Zadar. (The most expensive was a € 99 "Hvar 4x4 Adventure" in the island's backcountry.)
Note: In Antarctica, where L'Austral cruises for several months a year, shore landings are included in the fare. (This isn't the case in Europe, where the majority of the ship's passengers prefer to go ashore on their own.)
Tenders
Because L'Austral is smaller than most cruise ships, it's able to visit tiny bays and harbors where larger ships simply wouldn't fit--and where the presence of 3,000 or 4,000 passengers might overwhelm the towns or villages.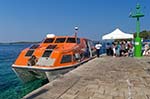 Many of these smaller ports don't have piers for anything bigger than a yacht, which means L'Austral must anchor offshore and send passengers ashore by tender. And in some larger ports, such as Dubrovnik, being able to land in the heart of the city is more convenient (and more fun) than mooring at a commercial port on the outskirts and taking a shuttle bus into town.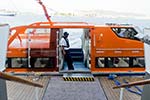 Fortunately, tendering from L'Austral is easier and quicker than it is on larger ships. There's no need to obtain a "tender ticket" from Reception and wait in a theatre or lounge until your group number is called: You just go to L'Austral's Marina behind the Main Lounge when you're ready to leave the ship, and a tender will be waiting or will arrive from shore within a few minutes.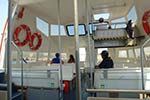 During our voyage, two boats shuttled back and forth between ship and shore in the ports of call (five out of six) where tenders were required. The tenders were never full--in fact, most of the time they were nearly empty--and the boat rides never lasted more than four or five minutes.
Zodiacs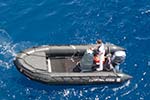 In Antarctica, L'Austral uses Zodiac inflatable boats (invented and made in France) for shore landings. We saw these boats in action twice during our Adriatic cruise: In Mljet, officers used a Zodiac to reach a mooring buoy, and in Rab, officers and cadets in two Zodiacs acted as lifeguards when passengers took a swim off the Marina.