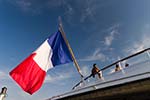 Most English-speaking cruisers have never heard of Compagnie du Ponant, but the French cruise line has a solid history and reputation in the European cruise market. It was founded in 1988 as a direct descendant of the fabled Compagnie Générale Transatlantique or French Line, which operated such vessels as the SS Normandie and SS France.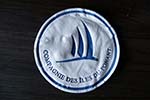 (Another note for trivia buffs: The Marseille-based cruise line was named after an island group off the western coast of France, and its bar coasters still bear the name "Compagnie des Īles du Ponant.")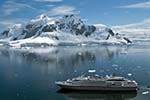 In 2010, Compagnie du Ponant broadened its horizons by introducing a fourth vessel to its three-ship fleet: Le Boréal, a luxurious "megayacht" with a capacity of 224 to 264 passengers. The state-of-the-art ship was designed for cruising in both temperate waters and polar regions. It also signaled Compagnie du Ponant's desire to reach a larger international audience.
A year later, in 2011, L'Austral entered service with Compagnie du Ponant. L'Austral is a sister ship to Le Boréal, and it will be joined in 2013 by a third Boreal-class ship, Le Soléal, which will debut with a series of cruises in Iceland, Greenland, and the Russian Arctic.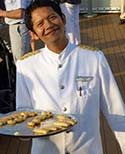 During the Northern Hemisphere's summer, L'Austral--the subject of this review--offers a dozen or more roundtrip Adriatic cruises from Venice, Italy. Itineraries vary slightly, and some cruises have themes such as gastronomy, golf, opera, jazz, or (and we would have loved to sample this cruise) the French musical-theatre production of Mamma Mia.
Early in 2012, we were invited to experience and review a seven-night cruise on L'Austral. The itinerary that fit our schedule sailed from Venice on July 2 and had a gastronomic theme.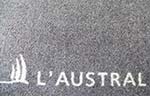 In this eight-page review, we'll tell you about L'Austral, what it was like to cruise on a French (but bilingual) ship, and what you need to know before deciding whether a cruise on one of Compagnie du Ponant's luxurious but informal "megayachts" is right for you.
Bonus coverage: After you've read this review, take a 51-page tour of the ship and its itinerary with our L'Austral ship photos and day-by-day cruise diary.