Potsdam Sightseeing
From: Potsdam Travel Guide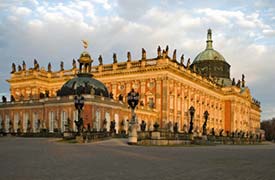 ABOVE: Schloss Sanssouci (the name means "without worry") was the summer residence of Frederick the Great.
What to see
The tourist office's free English-language Potsdam City Map & Information brochure provides a handy overview of the city and its sights. The colorful map is well-marked with major street names, icons representing monuments and tourist attractions, sightseeing-bus lines, and numbers that are keyed to descriptions on the back of the map.

I'd suggest starting your explorations in the historic city center, where you'll find such attractions as the Dutch Quarter (134 Dutch-style brick houses built to attract Dutch immigrants), the Old and New Market Squares, the colony of Alexandrowka with its 13 Russian-style wooden houses, and the usual downtown amenities.

Just up the road is the Glienicker Bridge, which connects Potsdam to Berlin and was used for spy exchanges during the Cold War. On the eastern side of the Havel River is the Weavers' Quarter, with its romantic cottages and weekend farmers' market.
To the west of the city center, Sanssouci Park is home to Sanssouci Palace (built in 1747 by Frederick II), an orangery called the New Chambers Palace, the New Palace (1763-1769), an Historic Windmill, and the Chinese House tea pavilion.

The New Garden and Babelsberg Park offer more palaces, villas, and other attractions, including the English-style Schloss Cecilienhof, which houses a comfortable four-star hotel and a museum devoted to the Potsdam Conference of 1945.

A bit farther outside the center, the Belvedere on the Pfingstberg offers panoramic views from an Italian-style structure that was commissioned in 1847 by Frederick William IV. (The Belvedere was closed to the public during the GDR era, when a Soviet KGB base and prison were located at the base of the hill.)
The sights mentioned here are just a sampling of the many things you can see in Potsdam; for more suggestions, see the Potsdam tourist office's English-language Sights pages.
Self-guided walking tours
For a list of do-it-yourself tours on foot, see the tourist office's Discovery walks page.
Boat trips
Schifffahrt in Potsdam offers boat excursions and day trips on the Havel River and its lakes.The normal schedule runs from April through September, with special Christmas cruises in December.
Next page: Museums, attractions
---
---
---
---
Top photo copyright © Andreas Bauer.
1st inset photo copyright © Andrée Feurich.
2nd inset photo copyright © Christina Hanck.