Potsdam Transportation
From: Potsdam Travel Guide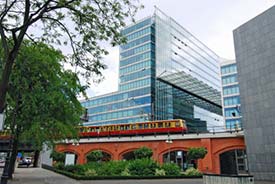 ABOVE: From central Berlin, both the S-Bahn (shown) and regional commuter trains have frequent service to Potsdam.
Getting to Potsdam
Potsdam is at the southwestern edge of Berlin, and it's easy to reach by public or private transportation.

By train: Potsdam Hauptbahnhof (the main Postdam railway station) is served by Line S7 of the Berlin S-Bahn and by the Berlin-Magdeburg and Berlin-Dessau regional train lines. (The trip will take 25 to 35 minutes from Berlin Haupbahnhof.)
By car: Potsdam is near the southwest corner of the Autobahn Ring that surrounds Berlin. Autobahn 115, known locally as the "AVUS," is the main expressway to Potsdam, but for detailed directions, use the ViaMichelin trip planner to customize a driving itinerary with maps.
Other resources: The local tourist office's Getting to Potsdam page will help you find your way to the city by car, railway, airplane, or boat.
Local transportation
VIP is the public tram and bus system in Potsdam. If you don't read German, see Google Translate's English-language version of VIP's Web site, which will open in a new browser window.
Havelbus provides bus service in the region around Potsdam. Its site is in German, but you can view Google's English translation in a new browser window.
Doubledecker hop-on, hop-off sightseeing buses or "loop tours" are popular with tourists; the Potsdam circuit has 12 stops, including the starting point of Luisenplatz. (The buses aren't cheap, though, and they run only once an hour.)
Finally, the Potsdamer Wassertaxi stops at 13 locations along the Havel River and its lakes, including the main railroad station. You can buy single tickets or day tickets, and bicycles can be taken on board for a small fee.
General transportation advice

Mobil in Potsdam shows current road projects, public parking, bicycle rentals and bike stations, and other useful information for visitors. If you don't read German, see Google Translate's Mobil in Potsdam English version, which will open in a new browser window.
Next page: Tourist information
---
---
---
---