Potsdam Tourist Information
From: Potsdam Travel Guide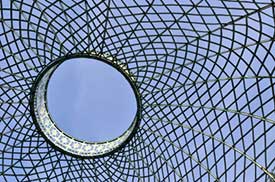 ABOVE: A gazebo roof at Schloss Sanssouci, the most famous of the city's many palaces, villas, and monuments. INSET BELOW: Potsdam's Brandenburger Tor, or Brandenburg Gate, and a vintage postcard from the GDR era.
Tourist office
The Potsdam Tourist Information Office is at Brandenburger Strasse 3, next to the Brandenburg Gate. It's open from 9:30 or 10 a.m. until 6 p.m. on weekdays, depending on the season, and from 9:30 a.m. to 2 p.m. (November-March) or 4 p.m. (April-October) on Saturdays and Sundays. Holiday hours vary; consult the Tourist Information Office's English-language Web page for current opening times.
The Tourist Information Office has literature, maps, a souvenir shop, and other services, including on-the-spot room reservations, guided tours, tickets for concerts and other local events, and the "PotsdamCard," which covers unlimited travel by bus or tram for two or three days plus discounts on admissions to palaces, museums, and other tourist attractions.
You'll find satellite branches of the Potsdam Tourist Information Office in the main railroad stations (Hauptbahnhöfe) of both Potsdam and Berlin.
Web links, telephone, e-mail
The Potsdam Tourism Service (which runs the Tourist Information Office) has a multilingual Web site at www.potsdam-tourism.com. Its e-mail address is [email protected], and you can get answers to questions or book a hotel room by calling +44 (0)331/27 55 80.
Other useful resources on the Web include the German National Tourist Office: Potsdam pages and Historic Highlights of Germany: Potsdam.
Back to: Potsdam - Introduction
---
---
---
---
Top photo copyright © Antonio d'Albore.
1st inset photo copyright © Christina Hanck.
Postcard scan copyright © Knut Nielsen.