Potsdam Travel Guide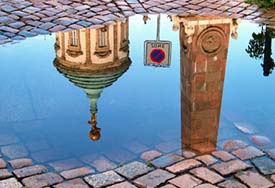 ABOVE: Reflections in a Potsdam puddle. INSET BELOW: A statue at Frederik II's Schloss Sanssouci, and the restored Stadtcanal, or City Canal, in Potsdam's center.
By Durant Imboden

Potsdam might be termed "dessert for the visitor to Berlin." The city, which is the state capital of Brandenburg, is about half an hour from Berlin's main railroad station by train, and it's also easy to reach by car or boat.
What's more, it looks like a meringue-and-whipped-cream confection after Berlin's meat-and-potatoes modernity, with its Baroque city center, 12 palaces, three historic parks, and tasty tidbits such as the Dutch Quarter, the Russian colony of Alexandrowka, and the lakefront villas of Neubabelsberg (a district made famous by rich Berliners and German movie stars).

Large areas of Potsdam have been on UNESCO's World Heritage List since 1990, and more sections of the city were given World Heritage status in 1999.
You could easily spend a week in Potsdam, but two or three nights will give you a taste of what the city has to offer.
In this miniguide and its accompanying articles, I'll provide an introduction to Potsdam, point you to other official and unofficial tourist resources, and describe several attractions that I enjoyed during my own visit to the city.
Next page: Sightseeing
---
---
---
---
Top photo copyright © Martyn Unsworth.
1st inset photo copyright © Ine Beerten.
2nd inset photo copyright © Christina Hanck.