Fichtelberg Schwebebahn
Kurort Oberwiesenthal, Germany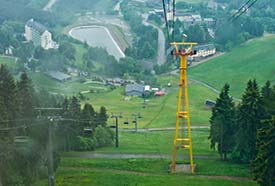 ABOVE: On the ride up, you can see the Talstation (valley station) and Kurort Oberwiesenthal, the highest-elevation town in Germany. INSET BELOW: A Schwebebahn car awaits passengers.
by Durant Imboden

Germany's oldest aerial cable car is thoroughly modern: The Fichtelberg Schwebebahn, which entered service in 1924, has been updated repeatedly over the years, and the current cars take just 3½ minutes to whisk tourists or skiers from the valley station in Kurort Oberwiesenthal to the summit of the Fichtelberg. (The difference in elevation is 303 meters, or 994 feet, and total travel distance is 1.175 km or about three-quarters of a mile).
The Fichtelberg Schwebahn is one of several lifts on the Fichtelberg and its neighboring mountain. It provides access to winter ski trails and summer hiking paths, but you can purchase a roundtrip ticket if you simply want to ride the cable car and enjoy the view.
For more information, including a timetable and prices, visit the bilingual Fichtelberg Schwebebahn Web site.
Tip: Combine a ride on the Fichtelberg Schwebebahn with a trip on the Fichtelbergbahn Steam Railway, which connects the resort of Kurort Oberwiesenthal with Cranzahl. (It's worth noting that Oberwiesenthal is the highest town in Germany, with an elevation of 893 meters or 2,930 feet above sea level.)
Next article: Saxon Narrow-Gauge Museum
---
---