Ore Mountains Model Railway Park
Modellbahnland Erzgebirge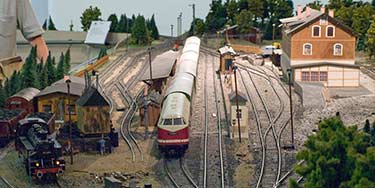 ABOVE: Trains and a few of the more than 400 buildings in Europe's largest Gauge 1 model railroad installation.
By Durant Imboden

Saxony is loaded with railroads and rail museums, and some of the latter--such as the Saxon Railroad Museum and the Saxon Narrow-Gauge Museum--have model railroads to complement their real-life locomotives and rolling stock. But for real fans of miniature railroading, nothing in Saxony can can top the Modellbahnland Erzgebirge or Ore Mountains Model Railway Park in Thermalbad Wiesenbad near Schönfeld bei Annaberg-Buchholz.
The installation, which opened in 2001, depicts the upper Ore Mountains around 1980. Its air-conditioned building houses 660 meters (2,165 feet) of Gauge 1 track, with 290 switches, more than two dozen big 1:32 scale trains, some 450 buildings, and more than 40,000 trees. (The building also has a snack bar, souvenir shop, and toilets.) The entire system is under computer control, with digital sound and day-night simulation for a more realistic experience.
The Ore Mountains Model Railway Park is open Tuesday through Sunday from 10 a.m. to 5 p.m. For more information, visit www.modellbahnland-erzgebirge.de. (The Web site is in German, but you can click here for an English version from Google Translate.)
Next page: More photos
---
---
---