Saxon Narrow-Gauge Museum
Rittersgrün
Sächsisches Schmalspurbahn-Museum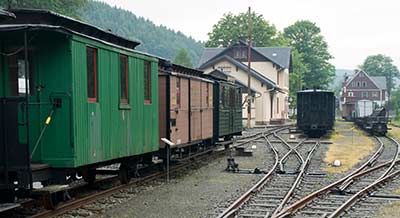 ABOVE: Vintage railroad cars and the former station at the Saxon Narrow-Gauge Museum in Rittersgrün, Germany. INSET BELOW: The museum's official sign, and homemade mushroom soup in the Museumskeller.
by Durant Imboden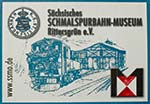 From 1889 until 1971, the small town of Rittersgrün was the terminus of the Pöhlwassertalbahn, a narrow-gauge railway that offered scheduled service between Grünstädtel and Oberrittersgrün near Saxony's border with the Czech Republic. The railroad no longer exists, but the Oberrittersgrün station, sheds, and marshalling yards are now the Saxon Narrow-Gauge Museum, which has a collection of 750-mm (29½-inch) steam locomotives, diesel engines, and rolling stock.
Although the museum is popular with railfans, it also targets families, with a small model railroad, station exhibits, and occasional special events for visitors of all ages. (The museum shop, located on the upper floor of the old station, has an eclectic assortment of books, gifts, and souvenirs, including woodcarvings from the region.)

The Museumskeller, or Museum Cellar, deserves special mention: The tavern and restaurant, which is located in the station's former coal bins, puts most museum cafés to shame. During a recent visit, I had a wonderful bowl of soup made from mushrooms that the cook had gathered herself in the local forest. The Gaststätte is open during the museum's normal hours, and its menu includes a full range of drinks, meals, and snacks.
For more information about the Saxon Narrow-Gauge Museum in Rittersgrün, visit www.ssmo.de.
How to get there:
The Saxon Narrow-Gauge Museum is near Oberwiesenthal, an end station on the Fichtelbergbahn Steam Railroad and the site of the Fichtelberg Schwebahn aerial cable car. (Public bus no. 414 connects Rittersgrün with the Oberwiesenthal station.) The Ore Mountains Model Railway Park and the Wolkeinsteiner Zughotel train hotel and restaurant are within easy driving distance.
For maps that show how to reach the Sächsisches Schmalspurbahn-Museum, see the museum Web site's Directions page.
Next page: More photos
---
---
---