Eurostar London-Paris-London
Page 4
Continued from page 3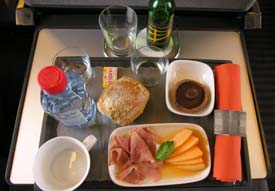 ABOVE: Lunch in Leisure Select class. (The ham-and-melon appetizer was followed by a choice of veal stew or salmon.) INSET BELOW: Reflections during the 20-minute Chunnel crossing.
Eurostar links

Eurostar europeforvisitors.com
This Europe for Visitors article has general information on Eurostar, including links to sites that describe the building of the English Channel Tunnel and Eurotunnel's transportation of cars, campers, and caravans between the UK and France.
Eurostar.com
The official Eurostar site has timetables and a "book online" journey planner, but it can be frustrating to use. (Tip: Select the "UK" as your country of residence if you live overseas. Fares will be converted into your local currency when you charge to your credit card.)
Rail Europe: Eurostar
our partner
If you live in the U.S., you may find Rail Europe easier to deal with than Eurostar. Caution: Bargain fares don't always show up on Rail Europe's pages, so also check Eurostar.com and convert sterling fares into dollars to find the best deal.
Back to: Eurostar - Introduction
---
---
---