Paris > Transportation > Gare du Nord
Gare du Nord
Europe's busiest railroad station is a terminus for Eurostar, Thalys, and other trains to Northern France and Germany, Britain, and the Benelux countries.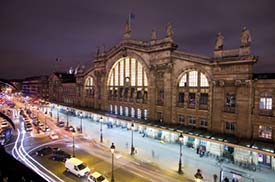 ABOVE: A night view of the Gare du Nord's façade on the rue du Dunkerque in the 10th arrondissement.
---

The Gare du Nord may the most important Parisian railroad station for English-speaking visitors, for two reasons:
Eurostar trains between Britain and Paris arrive and depart from the Gare du Nord;
The Gare du Nord is an interchange point between the Paris Métro underground system and RER Line "B" trains that serve Charles de Gaulle Airport.

The Gare du Nord is also the Paris station for Thalys, the network of high-speed trains that connect the city with Belgium, the Netherlands, and Cologne, Germany. (Thalys also runs ski trains to the French Alps during the winter season.)

Other rail services at the Gare du Nord include TGV and Grandes Lignes trains to Northern France and beyond, SNCF/Transilien commuter trains, and (in the new Gare Magenta next door) the RER "E" line to the northeastern suburbs of Paris.
In this article, we'll give details on the station and its services, public transportation from the Gare du Nord, and useful Web links. We'll also point you to our own related articles and show you an album of captioned photos from the Gare du Nord. To get started, click the link below:
Next page: Trains, public transport, services
---
---
---
About the author:

Durant Imboden is a professional travel writer, book author, and editor who focuses on European cities and transportation.
After 4-1/2 years of covering European travel topics for About.com, Durant and Cheryl Imboden co-founded Europe for Visitors (including Paris for Visitors) in 2001. The site has earned "Best of the Web" honors from Forbes and The Washington Post.
For more information, see About our site, press clippings, and reader testimonials.
---
Top photo copyright © Station96.
1st inset photo copyright © Alex Klochkov.
2nd inset photo copyright © Eurail Group.