Eurostar London-Paris-London
Page 3
Continued from page 2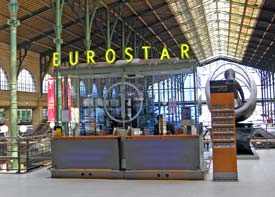 ABOVE: Eurostar information booth on the second level of the Gare du Nord. INSET BELOW: Escalator to the Eurostar terminal, and a wheelchair-accessible lavatory with its electronic door buttons in car 10.
Paris-London
Check-in and boarding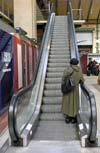 Since we already had our return tickets to London, we were all set to check in at the Gare du Nord. From the main floor of the station, we took the escalator upstairs to the Eurostar terminal. We grabbed a souvenir schedule from the rack outside the Eurostar information booth (see photo above), then went through the automated check-in gate, security, and UK immigration line.
When it was time to board, we exited the passenger lounge through a door overlooking the platform and took the gently sloping moving sidewalk down to the train. (See the photo at the top of page 1.)
Note: The Gare du Nord's Eurostar terminal is built inside the 19th Century station, with plaster moldings on the walls and ceiling and big windows overlooking the tracks. (In contrast to the main waiting room, the restrooms are ultramodern, with sinks that could have been lifted from the pages of Architectural Digest.) The waiting area has a variety of eating places and shops, including a branch of Paul, where you should pick up croissants or sandwiches if you're traveling Standard Class.
Leisure Select 2 + 1 seating
Standard Class (economy) was sold out for our return trip, so we traveled from Paris to London in Leisure Select Class. (This used to be called first class, and it's one notch below "Business Premier," which has a dedicated ticket office, check-in gates, and passenger lounge).
Car 11 had 2 + 1 seating, the same configuration used in first-class cars on most European trains. The seats were comfortable, and the carriage felt uncrowded even though every seat was full.
After the departure from Paris, we were given lunch menus and offered drinks (including Champagne). Later, we were served a three-course meal that consisted of melon and Ardennes ham, a choice of sautéed veal with courgettes and aubergines or salmon with rice and roasted tomatoes, white or rye hard rolls, a chocolate and toffee tartlet, and small chocolate bars. Drinks included wines and other beverages and (after dessert) coffee, tea, or hot chocolate. The meal was comparable to a first-class dinner on an airplane, but obviously not as good as a meal cooked to order in a dining car.

On the way to London, we wandered back to car 10, which had wheelchair seating (available only in Leisure Select class) and a spacious lavatory with elevator-style buttons to open, close, and lock the doors. The bathroom was clean and the plumbing worked fine, in contrast to the WC on our previous journey.
Tip: As a Leisure Select passenger, you'll have your pick of magazines such as Time Out London and Elle, which you'll find on the luggage racks inside the car doors. Grab your free magazines right away, because they're likely to be buried under suitcases if you come back later.
Arrival in London
Our train arrived in the London Eurostar terminal right on time, and it took only a few minutes to get off the train and out of the station.
Next page: Eurostar links
---
---
---