Venice > Local transportation > Waterbus stops > Chioggia
Chioggia
From: Venice Waterbus Stops
Chioggia is an ACTV waterbus stop in the fishing port and resort of Chioggia (sometimes nicknamed "Little Venice"), which is roughly 40 km or 25 miles south of Venice at the lowermost corner of the Venetian Lagoon.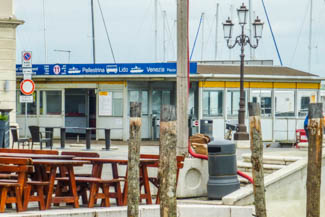 The Chioggia Piazzetta Vigo ACTV station is served by:
ACTV Lines 11, 19, N public water buses
(Line 19 is a summer-only route; Line 11 links Chioggia with Pellestrina, where connecting buses and ferries provide through service to the Lido di Venezia along the reinforced sandbar that divides the Venetian Lagoon from the Adriatic Sea.)
Click here for Chioggia hotel and apartment listings--including properties at Sottomarina, Chioggia's modern beach resort.