Venice > Local transportation > Waterbus stops > Sacca Fisola (Giudecca)
Sacca Fisola (Giudecca)
From: Venice Waterbus Stops
Sacca Fisola is just beyond the western tip of Giudecca, the narrow island that faces Venice's Santa Marta and San Basilio cruise piers across the Giudecca Canal. (It is connected to Giudecca by a footbridge.)
The small island is mostly residential, with public housing, a municipal swimming pool, and athletic fields.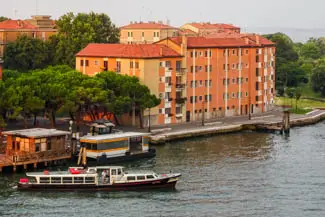 The Sacca Fisola waterbus stop is served by:
ACTV Lines 2, 4.1, 4.2, 9, N
public water buses
Sacca Fisola has one small (and unique) hotel: Sarah Sun Island, a "boat B&B" aboard two yachts that are easy to reach by walking east along the water as you leave the vaporetto stop.
Note: This station does not have a ticket booth or vending machine, but you can buy ACTV tickets at the newsstand just behind the boat landing.