Venice > Local transportation > Waterbus stops > Tronchetto (Ferryboat)
Tronchetto (Ferryboat)
From: Venice Waterbus Stops
Tronchetto (Ferryboat) is the embarkation and disembarkation point for car ferries between the Tronchetto parking island and the Lido di Venezia island beach resort.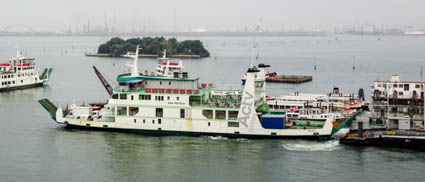 At some point in the future, it will be replaced by a new ferry station at Fusina, on the Venetian mainland.
The station is served by:
ACTV Line 17 car ferries (which also carry motorcycles and bicycles)
To reach the station from the mainland, drive or ride toward Venice on the Ponte della Liberta (the causeway leading from Mestre to Venice) and follow the signs for Tronchetto as you approach the end of the bridge. Once you're on Tronchetto, follow the signs for the ferry or traghetto.