Passengers with wheelchairs can buy single-fare "disabled tickets" at heavily-discounted rates from ACTV ticket booths and Hellovenezia offices. Each ticket is valid for 75 minutes, and a companion travels free.
Once you have a pass or a supply of tickets, you'll be able to get between the city's various "accessibility zones" on the map by using the water buses. (The city claims that about 70 per cent of the streets in the historic center are accessible by vaporetto.)
This strategy works especially well on the Grand Canal, the Giudecca Canal, and the Lido, where the No. 1 and No. 2 routes are wheelchair-accessible.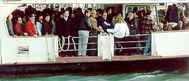 The No. 1 vaporetto is the most useful, since it zigzags from one side of the Grand Canal to the other on its 20-stop journey from the Piazzale Roma to the Lido. As the photo shows, this water bus can be crowded during the tourist season, but the conductor will usually clear a path for you, and the crew will help you on or off the boat quickly and without fuss.
Tip:
About two-thirds of the vaporetto lines are fully wheelchair-accessible; a few are not, although wheelchair-accessible boats are being introduced on the circolare lines that use split-level motoscafo boats. Fully-accessible lines are marked in our illustrated article on Vaporetto routes. Also see the Accessible Mobility page at Venice's ACTV transit-agency Web site, which has advice on specific routes (and also on accessible parking).
---
Step 4: When in doubt, call ahead.
Most churches are accessible once you get inside. The tricky part may be in getting up the steps, but this can be managed if you have a strong companion or aren't shy about bumming a lift from athletic tourists or locals.
Other buildings, such as museums, may vary in accessibility. The most impressive rooms in the Scuola Grande di San Rocco, for example, require climbing a long flight of marble stairs--unless you use the special wheelchair with motorized rubber treads, which lets you assault the staircase like an army tank. Your best bet is to phone before you go, so you can make other plans if the building requires a sturdy set of lungs and legs.
---
More online information:
The City of Venice currently offers an accessibility map in PDF format. You can also pick up a printed Accessible Venice kit in Venice or Mestre.
Sage Traveling, a site that provides information on disability travel in 40+ European cities, has a useful "Wheelchair Accessibility on Venice's Vaporetto" page with photos.
Don't miss Jon Read's Wheelchair Travel Tips for Venice, which he shared with us by e-mail in  a number of years ago (and which is archived in our Venice Travel Blog).
We can also recommend two blog posts:
Please note that information in guidebooks or on Web sites isn't always up to date. (For example, many guidebooks and sites still mention bridge lifts that are no longer in service.)
---
Agencies that specialize in accessible travel:
Rebekah Serin of Regency San Marino SRL's Accessible Italy department writes:
"I am originally from New York and now live and work in Florence, Italy. I am with the specialized tour operator Regency San Marino SRL. We arrange group and individual travel in Italy for individuals with disabilities. We also can organize personalized itineraries for individuals, depending on their interests.

"We work with accessible coach buses, minibuses with tie-downs, and hotels with roll-in showers. We also visit accessible museums and restaurants and offer rentals of wheelchairs, electric scooters, and portable suitcase ramps. Your readers are welcome to visit our Web site and contact me for further information about our services."

Contact information:
Rebekah Serin
Manager, Accessible Italy
Regency San Marino SRL
Tel: From US: 011-378-0549-941108 or from Europe: 00-378-941108
Fax: From US: 011-378-0549-941110 or from Europe: 00-378-941110
Web site: www.accessibleitaly.com
E-mail: [email protected]
A company with a similar name, AccessibleItaly.IT, offers guided tours and services such as transportion in accessible vans, rentals of self-drive cars for disabled travelers, wheelchair and scooter hire, help in obtaining dialysis or oxygen, etc.