Venice > Planning > Baggage porters
Baggage Porters
Hiring porter service in Venice is like buying a yacht: If you need to ask the price, you can't afford it.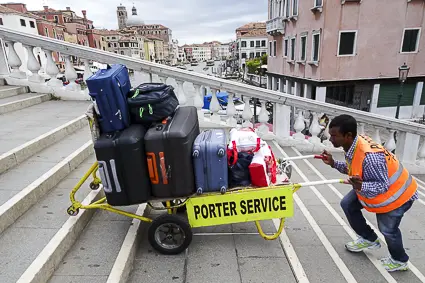 ABOVE: Travel light (or store unneeded luggage at a deposito bagagli office), and you won't need to pay painfully high rates for porter service.
---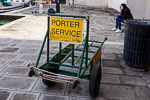 Not too many years ago, luggage porters or portabagagli were almost impossible to find in Venice. Today, they're in generous supply, but with a catch: Rates for hauling your bags are stratospheric, in part because getting from point A to point B in Venice is a slow, painful process for the men who wrestle luggage trolleys down narrow streets and over the steps of Venice's 400+ bridges.
Where to find porters: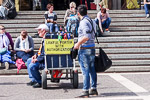 During the main tourist season or on busy weekends, it's easy to find baggage porters in front of the Santa Lucia Railroad Station (near the water) or in Piazzale Roma, where airport buses and land taxis arrive and depart.
Porters are also found--though not quite as reliably--in other busy locations around town. For locations with phone numbers, scroll down to "Porters" on this page (Caveat: We can't vouch for the accuracy of the information, since it's undated and written by an anonymous author.)
What you'll pay: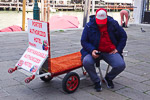 Porters in Venice's historic center aren't regulated as they once were, and rates for independent baggage porters can be hard to pin down.
Depending on distance, you could easily pay 50 euros or more to have several bags hauled from the railroad station or the Piazzale Roma to your hotel.
Our advice: Avoid the need for porters.
A little advance planning can save you a great deal of money and hassle. Here are some tips:
1. Stay at a hotel near your point of arrival or departure.
2. Travel light, or park unneeded luggage at a deposito bagagli office.
Limit yourself to a rolling suitcase of moderate size (preferably a two-wheeled model, for easier handling on bridge steps) and a small backpack.

If you can't avoid traveling with multiple bags or large suitcases, pack what you need for Venice in a small bag and park your bigger cases at a "left luggage" office.
A final warning:
If you arrive at the railroad station, please be aware that the porters by the water are not official station porters (a.k.a. "redcaps," as we used to say in the U.S.). And while most are just honest porters looking for work, you may encounter scumbags who take advantage of unwary visitors.
We received this e-mail from a reader, and we thought we'd share it with you:
"I would like to recommend that you include something regarding the unscrupulous porters at Santa Lucia train station. They cleverly position themselves at the water taxi jetties / piers and 'discuss' a price with a water taxi driver 'on your behalf,' cleverly fooling you into thinking that both they and the water taxi are all part of the same service. They then offer you a price to your hotel, commonly €60 and then offer to collect your luggage, in our case this was at the station with family members.

"What they don't tell you is that the collection of your luggage is not included in the water taxi fare. They charge €15 for the first piece and then €5 for each additional piece. This only becomes apparent after they have dropped it off at the water taxi.

"When we refused to pay, as they had not informed us of this or quoted a price to us, they threatened to transport all our luggage back to the train station. We had a number of large bags with us having traveled to the Tuscan region for a wedding. After much haggling we agreed to pay half of what they wanted to avoid an increasingly nasty situation from escalating any further."
---
---
About the author:

Durant Imboden has written about Venice, Italy since 1996. He covered Venice and European travel at About.com for 4-1/2 years before launching Europe for Visitors (including Venice for Visitors) with Cheryl Imboden in 2001.

PC Magazine has called this "the premier visitors' site for Venice, Italy." Over the years, it has helped more than 30 million travelers. For more information, see About our site, our Europe for Visitors press clippings, and our reader testimonials.
---