Venice > Mestre-Marghera > Photos > Train station
Mestre Train Station
From: Introducing Mestre-Marghera

The Venezia Mestre Railroad Station is on the southwestern edge of Mestre, within walking distance of the town's main shopping and entertainment district. It handles more than 500 trains and 85,000 transit passengers each day, and trains between Mestre and Venice run every few minutes from early morning until late evening.
---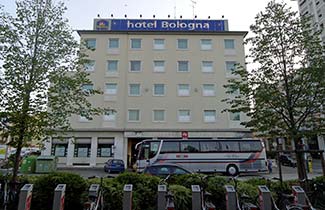 The area is safe and free of sleaze, and there are three good, reasonably-priced four-star hotels directly across the street from the station. Several cheaper hotels are also within a few blocks. (See our Mestre Hotels - Where to Stay article for details.)
---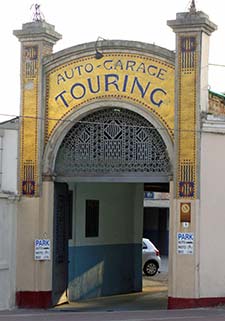 If you've brought your car and aren't staying at a hotel with a garage or lot, you can use any of several parking facilities near the railroad station--including this retro garage with an entrance decorated in gold mosaic tile. (For advice on where to park, see our Parking in Venice article.)
---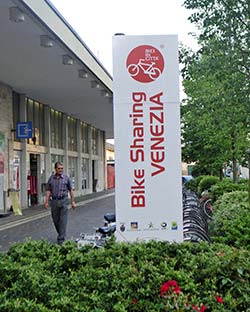 Bike Sharing Venezia has an automated rental location at the Mestre railroad station. The service is available to anyone with an IMOB CartaVenezia card, including tourists, upon enrollment and payment of an annual fee. Use of a bicycle is free for 60 minutes; after the first hour, cyclists pay a small charge.
---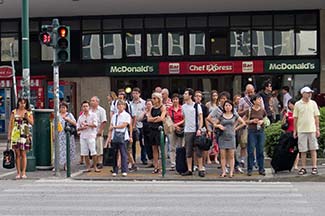 When ready to leave the station, go to the zebra crossing and cross the Viale Stazione to the Via Piave, which is the next stage in our virtual walking tour of Mestre and Marghera.
Next page: Up the Via Piave toward downtown Mestre
---
---
---