Venice > Links > Miscellaneous topics
Venice Odds & Ends
From: Venice Links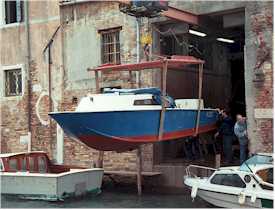 ABOVE: An indoor boatyard returns a boat to the water.
Venice Gondola Serenade Tour veniceforvisitors.com
It sounded like kitsch, but floating down a canal with a baritone and a guitarist in the next gondola turned out to be fun--and maybe even a little magical.
Acqua Alta veniceforvisitors.com
High tide, low atmospheric pressure, and a scirocco wind can make Venice feel like Atlantis. Our illustrated article tells what to expect and how to prepare for "high water."
Tourist Fines for Illegal Behavior veniceforvisitors.com
Read our article before you sit on the pavement, feed a pigeon, or take off your shirt.
Venice Boat Rentals veniceforvisitors.com
Cruise the Venetian Lagoon as captain of your own vessel with a self-drive Pénichette from Locaboat Holidays.
MSC Poesia Eastern Mediterranean Cruise europeforcruisers.com
Our illustrated 10-page Europe for Cruisers review describes a roundtrip cruise from Venice to Istanbul on an Italian megaship with five official languages and a thoroughly European atmosphere.
Bottega di Tintoretto veniceforvisitors.com
Archived article: Roberto Mazzetto manages a nonprofit graphics studio in the workshop of a 15th Century master.
History of Murano and Murano Glass
The Venetian glass industry has been centered on the nearby island of Murano since 1292. Murano glassblowers once risked death if they revealed their secrets, but today their techniques are published on the Web.
Lug Sail Association
The Associazione Vela al Terzo offers regatta schedules and information on sailing courses in the Venetian lagoon. (If you don't read Italian, try Google Translate.)
Official Gondola Site
Learn about the gondola's history, or assemble a bibliography of books (mostly in Italian) about gondolas and Venice.
Venice Marathon
The Venice Marathon takes place each year in October. If you're interested in running (or watching), use the e-form to get on the mailing list.
Venice Master Artisans veniceforvisitors.com
If you buy just one coffee-table book about Venice, make it this one. The large-format, 272-page book has 210 color photos and 30 profiles of artisans who use traditional techniques to make everything from glass to footwear to metal castings. (There's even an American-born gondola maker.)
---
---