L'Austral Cruise Photos
From: L'Austral cruise review
Day 5: Mouth of Kotor and Mljet, Croatia (5)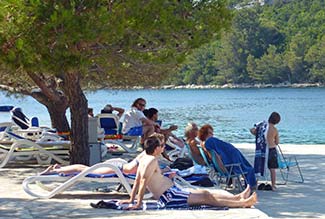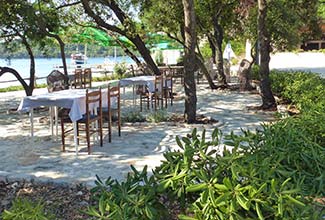 Pomena turned out to be a village of about 50 inhabitants with a handful of hotels, outdoor restaurants, and bars. (It's one of just a few settlements on the island of Mljet, most of which is a Croatian national park.)
---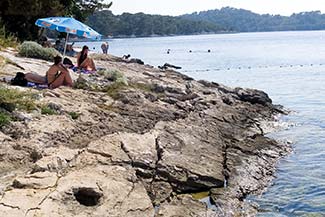 Not far from L'Austral's tender landing, bathers were perched on the rocky shore. (We weren't among them, but we later learned that many of L'Austral's passengers had come ashore to swim.)
---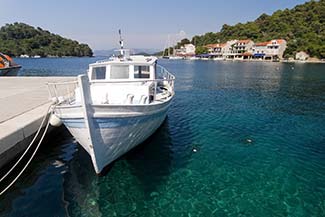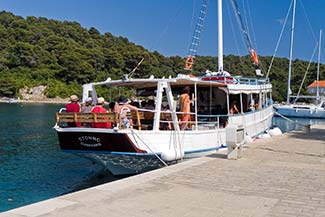 Excursion boats were tied up along the waterfront. The boat in the lower photo was about to return to its home port of Dubrovnik.

Other boats, including scheduled car ferries and high-speed catamarans, arrive and depart on the northern shore of the long, narrow island. (In the tourist map above, Pomena is the blob of yellow near Mljet's western or leftmost tip.)

---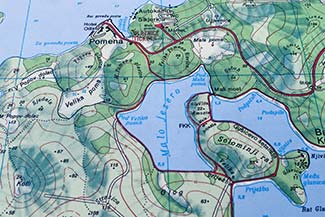 A map in the village showed roads and walking paths around Pomena. (We would have liked to have more time in Pomena to explore the park. L'Austral was in port for only four hours, and passengers had to be back on board 30 minutes before departure.)
---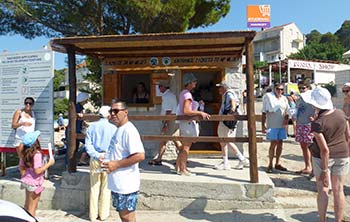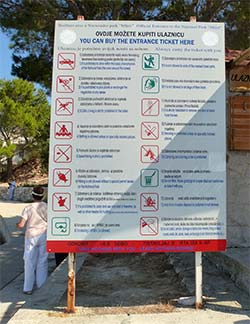 The ticket office for the Mljet National Park was in the center of Pomena, and visitors weren't allowed to leave the settlement without buying an expensive ticket.

---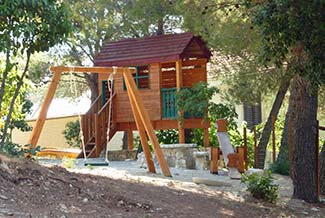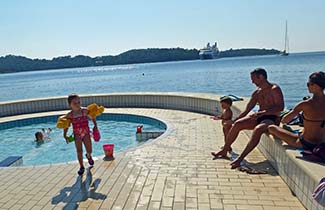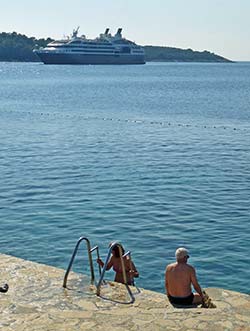 We decided to stay in town, since we didn't want to get lost in the woods and miss our ship's departure. We admired the local playground, a wading pool for children, and a view of L'Austral from the waterfront promenade.
---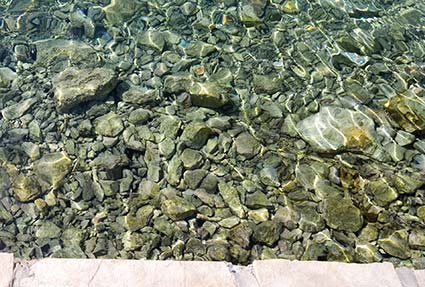 We were especially impressed by the clarity of the water along the shore.
---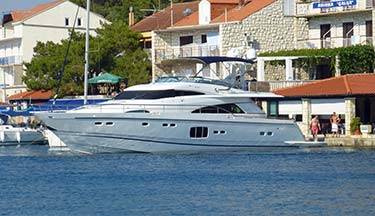 After wandering around the village center, we checked out the yacht marina on the other side of the inner harbor.
---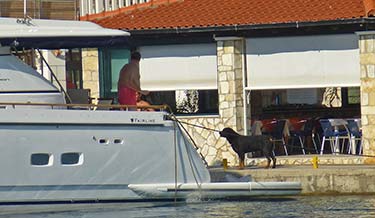 A dog stood between a yacht and one of several bars along the waterfront.
---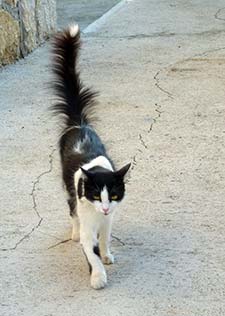 A cat checked to see if we were friendly or edible.
---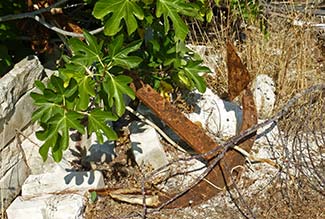 A rusty anchor lay in the grass and bushes nearby.
---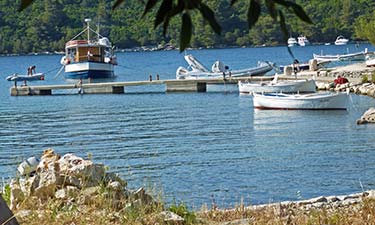 Offshore, a vintage excursion boat and various small boats were tied up to a wooden pier.

---
---
---
---
---