Oceania Regatta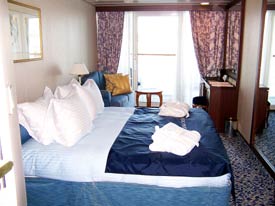 ABOVE: This Category D outside stateroom with veranda is typical of the standard cabins on Oceania's Regatta and Insignia..Beautiful high-quality linens are used in all cabins, with lightweight, fluffy duvets replacing conventional blankets and bedspreads. (The dark blue covering in the photo is a protective luggage cover used for packing and unpacking.)
Regatta's staterooms
Continued from: Regatta (the ship)
Oceania's unofficial tagline is "five-star cruising at four-star prices," and something obviously has to give when your fares are half of what the luxury lines charge. In the Regatta's case, what you give up is room size, with the smallest cabins measuring 160 square feet compared to 271 on Seabourn and 287 on Silversea's Silver Whisper. (To give you an idea of how other "premium lines" compare, the smallest cabin on Holland-America's new Oosterdam is 185 sq. ft. and the Celebrity Constellation's equivalent is 170 sq. ft.).
Still, at Oceania's prices, many guests can afford to upgrade to a higher-category cabin--e.g., from an Outside Stateroom with Veranda to a Penthouse Suite, which measures 322 sq. ft. and has a 50% wider balcony than the most popular stateroom. Even in the standard cabins, there's plenty of room for two people unless they have huge wardrobes or a taste for ballroom dancing at bedtime.
Regatta's accommodation choices include:
Owner's Suites. Regatta's largest one-bedroom suites are on the stern, with wraparound balconies that offer views aft and to the side. They're huge, with amenities such as Jacuzzis in the large bathrooms, separate half-baths off the living room, refrigerators, two TVs, and butler service. (My wife and I had an Owner's Suite on one of the Regatta's sister ships, the R7, and it was an unforgettable experience.)
Vista Suites. These are similar to Owner's Suites, but they overlook the bow instead of the ship's wake. (Because they're below the bridge, guests are required to keep their balcony curtains shut at night when cabin lights are on.)
Penthouse Suites. Demand is high for the Regatta's 52 Penthouse Suites, which are considerably larger than standard cabins and include refrigerators, full bathtubs, and butler service.
Staterooms with Veranda. This is the largest stateroom category on the Regatta. Cabins measure 216 square feet, including teak-decked verandas with outdoor furniture. Mirrors and efficient layouts provide a feeling of spaciousness, and I was extremely comfortable in stateroom 6072 during my 14-day voyage.
Deluxe Ocean View Staterooms. Large windows provide generous light and views in these cabins, which have the same interior space as veranda staterooms. Slightly cheaper alternatives are the Ocean View Staterooms with portholes on Deck 3 or panoramic windows (but fully obstructed views) on Deck 6. I visited a porthole stateroom, and I would have been quite happy with it if a veranda stateroom hadn't been available.
Inside Staterooms use mirrors to overcome the claustrophobic feeling that passengers often have in windowless cabins. (If you're in an inside stateroom and want to know what's happening outdoors, you can see a view from the bridge on your TV.) I visited one inside stateroom, and it was far nicer than comparable cabins on older ships.
Note: Oceania is now providing terrycloth robes to passengers in all stateroom categories. Expensive bedding, high-quality French toiletries, stacks of thick towels, and nightly turndown service provide a feeling of luxury in even the cheapest cabins.
Next page: Regatta dining
---
---
---