Oceania Regatta
Dover-Barcelona Cruise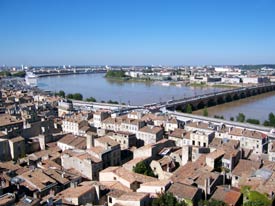 ABOVE: Bordeaux, France was one of the highlights of Oceania's Dover-Barcelona itinerary. The Regatta cruised up the Garonne River and moored overnight in the city center. (The ship is the white vessel in the upper left section of the photo.)
Archived Cruise Review
By Durant Imboden
Oceania Cruises is one of the newest cruise lines sailing the ocean today. Its first ship, the M/S Regatta, had its inaugural voyage in July, 2003, spending the next two months in the Baltic before heading for the Mediterranean. I was lucky enough to get a cabin on the Regatta's fully booked September 13 voyage from Dover to Barcelona, and this article is based on that 14-night cruise.
About Oceania Cruises
Oceania Cruises is the brainchild of Joe Watters, the former president of Crystal Cruises, and Frank Del Rio, ex-CEO of Renaissance Cruises. The new Miami-based company is a niche or boutique cruise line that seeks to offer a five-star cruise experience on midsize ships of nearly identical design. Its cruises are destination-oriented, with 10- to 14-day itineraries in Northern Europe and the Mediterranean, the Caribbean, the Panama Canal, and the Mexican Riviera. The atmosphere on board is "country club casual," yet the staff-to-guest ratio of 1.7:1 is intended to provide the level of service and cuisine that you might expect on more formal (and more expensive) cruise lines.
The company has done very well from the beginning, with a nearly full ship on most Regatta sailings and heavy bookings on the Insignia, which made its debut in spring of 2004. A third sister ship, the Nautica, joined the Oceania fleet in 2005.
Next page: M/S Regatta
---
---
---