Silver Spirit Cruise Photos
From: Silver Spirit Cruise Review
Cádiz (6)
Around midday, we returned to Silver Spirit to dump our umbrellas and plan our afternoon's activities. The port wasn't far away (even though we were at the opposite end of the city center), so we hoofed it back to the ship.
---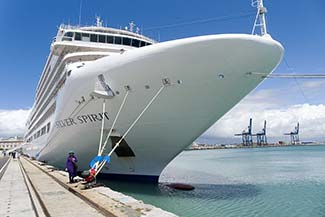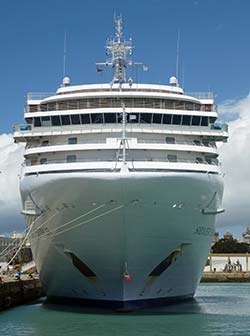 By the time we reached the pier, the sky was blue and Silver Spirit was glowing in the sunlight.
---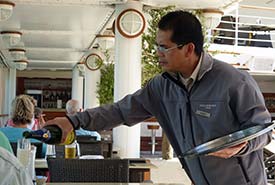 We couldn't resist having lunch at the Pool Grill on Silver Spirit. (We skipped the Champagne, though--the waiter in the photo was serving guests at the next table.)
---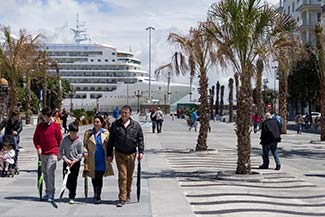 After lunch, we returned to the Plaza San Juan de Dios, which was now sunny, dry, and filled with people.
---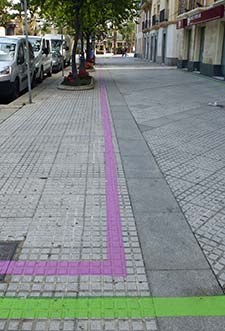 This time, we followed the city tourist map's purple walking itinerary to the Oficina de Turismo, where we switched to an orange-striped itinerary that would take along the water and around the city center.

---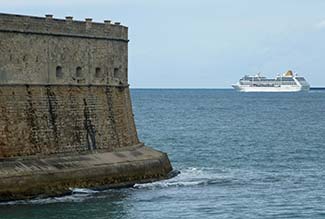 Soon, we reached a series of "Alameda" promenades along the waterfront, which supplied views of the sea. (The fortification in the second picture is the Baluarte de la Candelaria, and the ship offshore is P&O's Adonia.)
---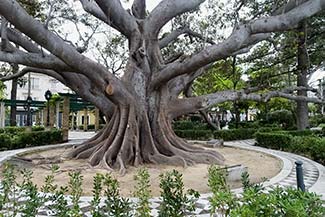 We encountered a huge tree that looked like an animated tree from a fairy tale.
---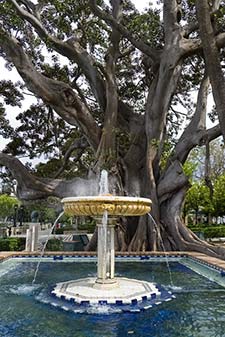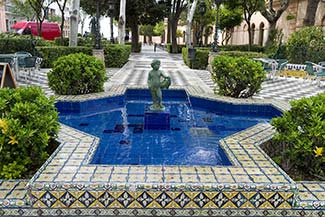 Nearby, fountains were decorated with tiles, cherubs, and other features.
---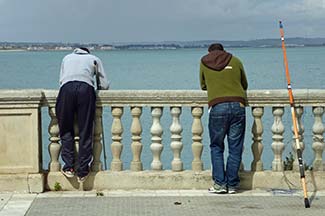 Anglers fished from shore. (We didn't see any signs of fish, but we're less patient--and possibly less observant--than anglers are.)
---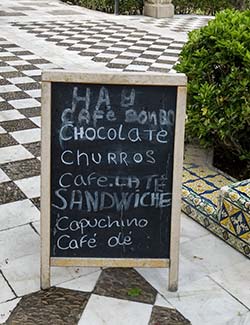 A café along the waterfront promenade offered hot chocolate, churros, sandwiches, and other drinks and snacks.
---
---
---