Silver Spirit Cruise Photos
From: Silver Spirit Cruise Review
Port Mahon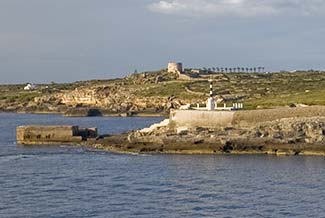 Silver Spirit was just entering the harbor of Port Mahon, Menorca, when we got up the next morning. From our balcony, we could see fortifications from a time when Port Mahon was fought over by Britain, France, and Spain.
(Menorca is the second-largest of the Balearic Islands, being considerably smaller than Mallorca but slightly bigger than Ibiza. Its population is less than 95,000, and the capital--Port Mahon--is a town with about 30,000 residents.)
---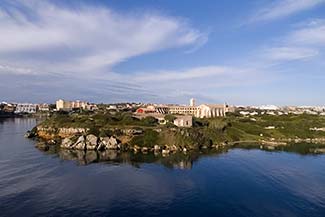 Port Mahon's harbor is the second-deepest natural deepwater harbor in the world. It's also large, with a length of 5 km (3 miles) and a width of 900 meters or more than a half a mile at its broadest point.
Because the harbor is protected from the sea, its water was clear, blue, and smooth when Silver Spirit arrived on a mild spring day.
---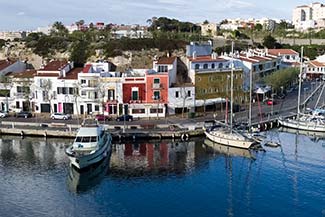 As Silver Spirit slowly made its way toward the city center, we passed a number of suburban settlements where boats were tied up along the waterfront.

---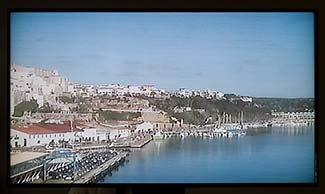 Our TV offered a bridgecam view of downtown Mahon as we approached the cruise pier.
---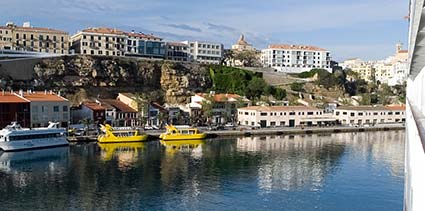 A few minutes later, we could see the pier and downtown Mahon from our balcony on Silver Spirit's port side.

---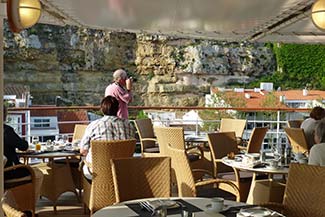 By the time we reached La Terrazza for breakfast, the ship was in its berth. The setting was dramatic, with cliffs forming a backdrop for the quay and the port headquarters.
---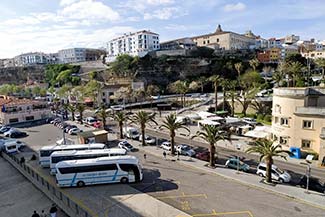 Tour buses for the day's shore excursions were already waiting on the pier.
---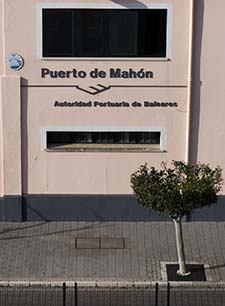 We were surprised to discover that the sign on the port headquarters was in Castilian Spanish. (Catalan, the co-official language of the Balearics, usually gets top billing on government buildings in this part of Spain.)

---
---
---
---