Silver Spirit Cruise Photos
From: Silver Spirit Cruise Review
Departure from Lisbon (2)
Silver Spirit wasn't departing until early afternoon, so after breakfast, we went ashore and climbed uphill to Lisbon's Alfama district.
---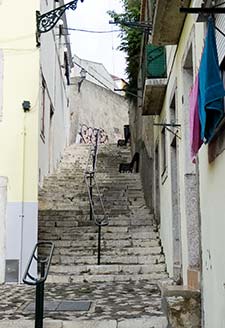 The weather was sunny and dry, so we didn't have to worry about slipping on stone steps or cobblestones that had been polished by shoe soles over the decades.
---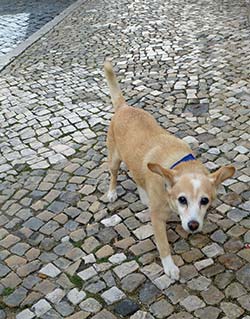 Cheryl couldn't resist snapping a photo of a friendly dog in Alfalma. (And Durant couldn't resist alliteration when writing the caption.)
---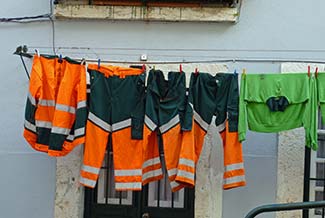 Cheryl also took the traditional picture of a clothesline, but with a twist: The clothes were part of a city worker's uniform.
---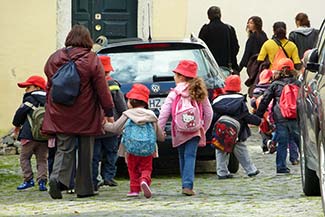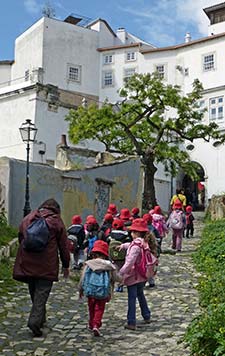 We were headed toward the Castelo de São Jorge, the ancient Moorish fortress that looms over central Lisbon. Along the way, we encountered a group of schoolchildren who were on a field trip to the castle. All of the children wore matching red hats.
---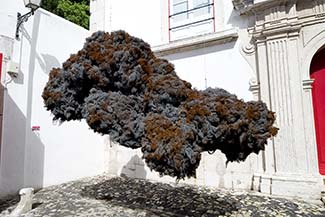 As we neared the top of the hill, we saw a hanging sculpture made of scouring pads. (If you look carefully, you can just see the supporting wires.) The sculpture had a patina of rust that looked attractive but raised questions about the artwork's longevity.

---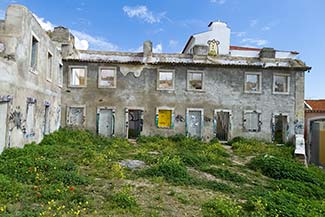 Just below the castle, we ran across a cluster of ruined buildings.
---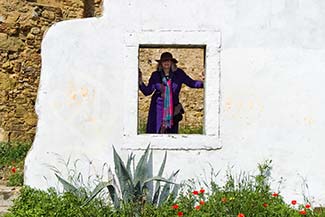 We waited our turn for the inevitable photo op.
---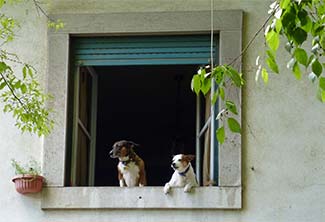 We didn't have time to enjoy the Castelo de São Jorge (which we'd visited on previous trips), so we settled for snapping another dog photo before turning around and heading downhill.
These dogs were at a window right below the castle, and they were having a great time barking at passing tourists.
---
---
---