Silver Spirit Cruise Photos
From: Silver Spirit Cruise Review
Málaga and Alhambra (4)
It was still drizzling when our tour bus reached Málaga. As we drove through downtown late on a quiet Sunday afternoon, there was no doubt that we were in a resort town.
---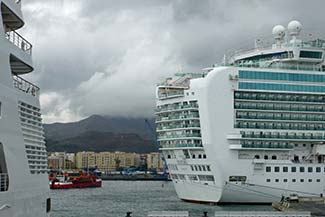 At the Málaga Cruise Terminal, P&O's Ventura (right) was moored near Silver Spirit.
---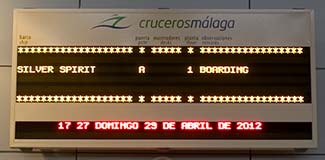 Inside the terminal, electronic signs directed us to our ship.
---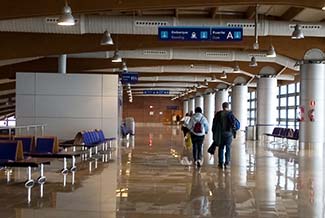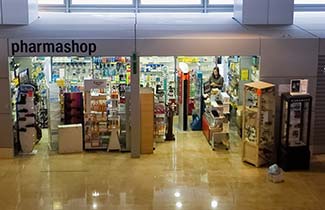 The modern cruise terminal felt a bit like an airport, with departure lounges and shops.

---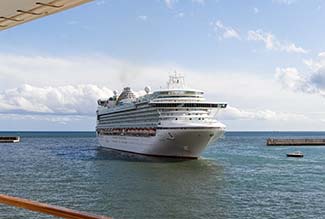 Not long after we reached our suite on Silver Spirit, the rain gave way to sun and--by coincidence--P&O's Ventura sailed from Málaga. The ship was so large that it couldn't turn around in the harbor: It had to back out, turning only when it reached the sea.
---
Silver Spirit wasn't due to sail until later in the evening, so we enjoyed an industrial sunset in the port.
---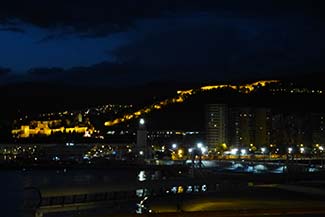 As the sky got darker, Málaga's floodlit Alcazaba snaked up the hillside behind the city. (The former residence of Moorish emirs is even older than The Alhambra in Granada: Most of the structure dates to the 1th Century, when Málaga was the Islamic kingdom's main port. It was later a temporary residence for Ferdinand and Isabella after their troops pushed the Moors out of Spain in 1487.)
---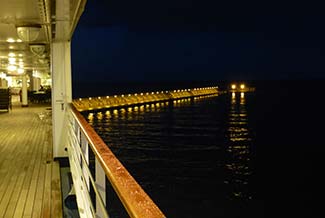 We snapped this night view of Málaga's breakwater around 11 p.m., just before Silver Spirit departed on a 33-hour journey to Palma de Mallorca.
---
---
---