Silver Spirit Cruise Photos
From: Silver Spirit Cruise Review
Málaga and Alhambra (3)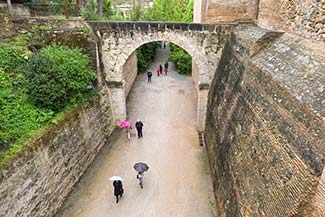 From the Nasrid Palaces, we walked in the rain to the Generalife, where the Moorish kings of Granada went for recreation.
---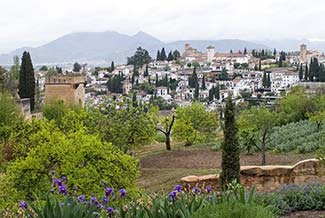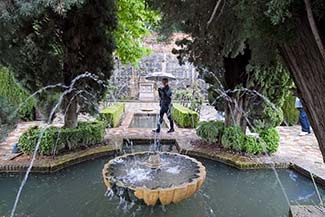 The Generalife has two sets of gardens--"upper" and "lower"--along with fountains, a "water stairway," and other features that must have been pleasant on hot summer days in the 14th and 15th Centuries.
---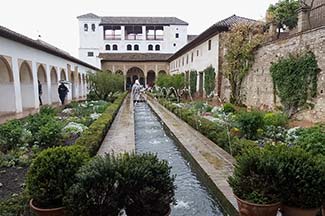 The Palace of the Generalife occupies the space between the upper and lower gardens. The western wall and gallery (left in the above photo) replaced a higher wall after the Moors were pushed out of Spain and Catholic monarchs took possession of The Alhambra. (The sultans preferred privacy and introspection; the Catholic kings were more interested in views of the surrounding countryside.)
---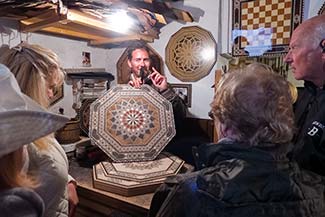 No group tour is complete without a visit to a gift or souvenir shop. Here, our tour guide displays examples of traditional inlay work. (We spent our time in the shop purchasing a guidebook and several postcards.)
---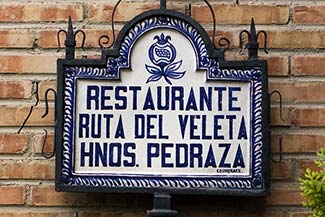 Following the tour, we had a group lunch in a private dining room of the Restaurante Ruta del Veleta Hermanos Pedraza on the outskirts of Granada. The decor was interesting, the food was decent, the lavatories were clean, and we were treated to gifts of origami by our Japanese table companions: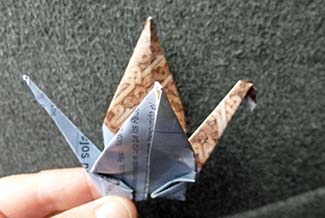 This photo shows one of two paper cranes that we received from our shipmates, each made from an Alhambra map.

---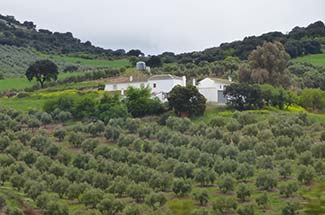 After our late lunch, we settled in for a long but scenic bus ride over the mountains from Granada to Málaga.
---
---
---