Schloss Cecilienhof Hotel and Museum
Potsdam, Germany
Page 2
Continued from page 1
More photos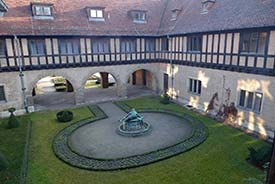 Although "Schloss" (also spelled "Schloß") is German for "castle" or "palace," Schloss Cecilienhof's half-timbered construction gives it the look of a large but unpretentious country house.
---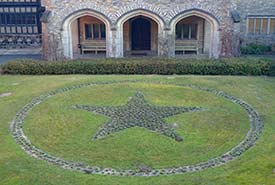 Because I visited in March, I wasn't able to see whether the gardener in charge of the star-shaped flowerbed subscribed to the motto "Better dead than red."
---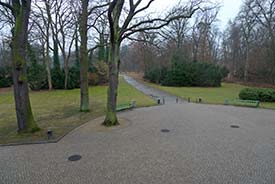 A wooded park surrounds the palace. This photo shows a view from a guest room at the back of the Schlosshotel Cecilienhof; rooms on the front face the Havel River. (The picture was taken on a gloomy day in late winter; the wooded setting is much prettier from spring through early fall.)
---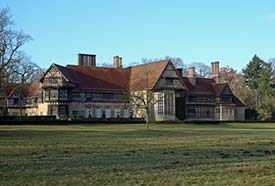 Here, you can see the side of the palace that faces the Havel River. During the GDR era, a wall (similar to the Berlin Wall) ran across the lawn between the Schloss Cecilienhof and the water. The wall was torn down after the collapse of the East German regime.
---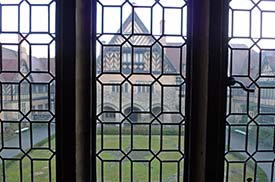 Inside the Relaxa Schlosshotel Cecilienhof, a corridor runs around the courtyard, with leaded-glass windows offering views to hotel guests as they leave their rooms.
---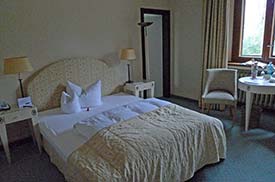 Guest rooms at the Schlosshotel are comfortable and a bit old-fashioned, with large bathrooms and plenty of light.
---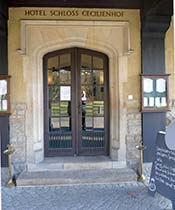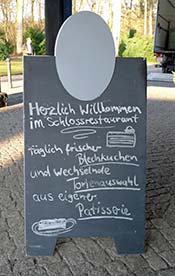 The restaurant has its own entrance, though you can reach it from inside the hotel.
---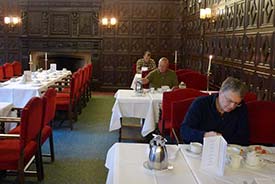 The restaurant (which also serves as a breakfast room) is paneled in carved wood, with a large fireplace, heavy tables, and upholstered armchairs. It has the atmosphere of a royal hunting lodge.
Back to: Hotel Schloss Cecilienhof - Introduction
---
---
---
---
---