Lindenstrasse 54/55 Memorial
Potsdam, Germany
Page 2
Continued from page 1
More photos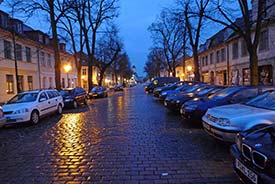 Outside the former prison, the Lindenstrasse looks like an ordinary residential street in the town center.
---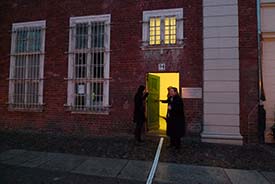 The bars on the front of the building are the only hint that Lindenstrasse 54/55 isn't an ordinary dwelling.
---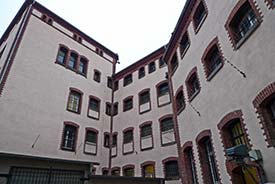 The prison is bigger than it looks from the street. A new wing with nearly 100 cells was added in 1910.
---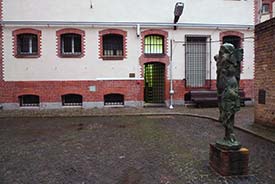 A memorial statue stands in the prison courtyard.
---
Nearby are several tiny exercise yards.
---
Inside the prison, steel stairs lead up to tiers of cells.
---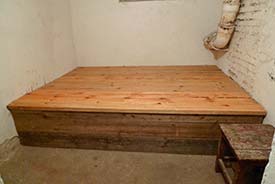 During the years 1945 to 1989, when the "Linden Hotel" was a political detention center, inhumane conditions were used to break the will of prisoners. Three to eight inmates were crammed into each cell, where they shared a wooden sleeping platform without bedding. A typical cell measured only 7 square meters (75 square feet), or a little less than two king-size beds.
Back to: Introduction
---
---
---
---
---